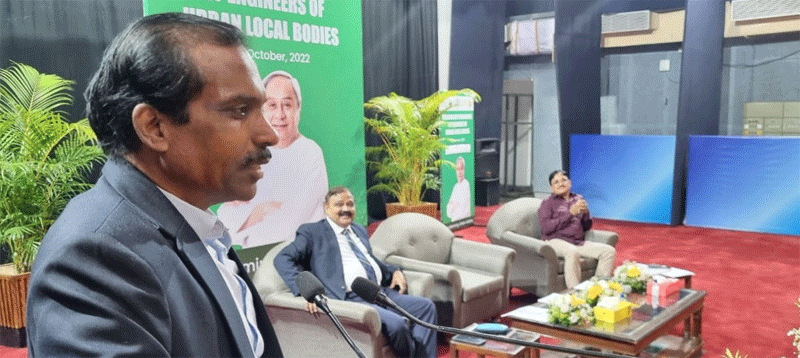 Bhubaneswar: G Mathi Vathanan, Principal Secretary, Housing and Urban Development has emphasized on need of further expediting of various Urban infra projects like JAGA Mission, MUKTA, Water Supply, Sanitation etc, which are under implementation in the Urban areas of Odisha.
Mr.Mathivathnan advised the engineers while inaugurating the Orientation Program of Engineers of Urban Local Bodies here on 26 October.
Taking forward the agenda of Transforming Urban Odisha and creating climate resilient urban assets, the Department of Housing and Urban Development (H&UD) organized a one-day Orientation Program of the Engineers of Urban Local Bodies (ULBs) here at Convention Centre of Xavier Institute of Management today.
Principal Secretary further stated that the diverse accomplishments made by Team Urban under the 5T Governance of Chief Minister Naveen Patnaik have attracted the attention of all across the Globe.
Various eminent personalities and officials inside and outside the countries are frequently visiting Odisha to have an exposure on the low cost, eco-friendly and inclusive projects being implemented across urban areas, keeping people at the forefront.
Mr.Mathivathnan added that Decentralization and Community participation are the two eyes of the department. "As we take care of our eyes, the most vital part of our body, so also you all should and must take top care of the two eyes," said the Principal Secretary, H&UD Department.
Sangramjit Nayak, Director Municipal Administration (DMA) advised the Engineers to be vigilant on key issues and concern so the Community Partners. He attached importance to work in a transparent manner and gave a clarion call to be abide by the 5-T mantra of the Government in letter and spirit.
Sarada Prasad Panda, Director, State Urban Development Agency (SUDA) apprised the key aspects under the Mukhyamantri Karma Tatpara Abhiyan (MUKTA) and conveyed various timelines for completion of projects. Sanjay Pramanik, OSD-cum-Special Secretary presented the Financial Modalities under various projects.
Among others, Technical experts Dr. Bhaktakabi Das,Chief Engineer cum Additional Secretary, R N Mallick, Project Director, Technical Cell, OWSSB, Debasundar Mohapatra, Advisor Urban Water Rejuvenation Unit, Darshan Shah, Senior Manager, Jana Urban Space Foundation, Bengaluru made their technical presentation in transforming the urban assets.
Santosh Kumar Dash, Joint Secretary proposed a hearty vote of thanks.
Such Capacity Building programs for various key functionaries of H&UD Department is an integral part and have been proved to be instrumental in public service delivery of the Department.
More than 320 Engineers working in ULBs were sensitized on various key technical aspects and Standard Operating Procedures (SoP) under various transformative Urban initiatives.