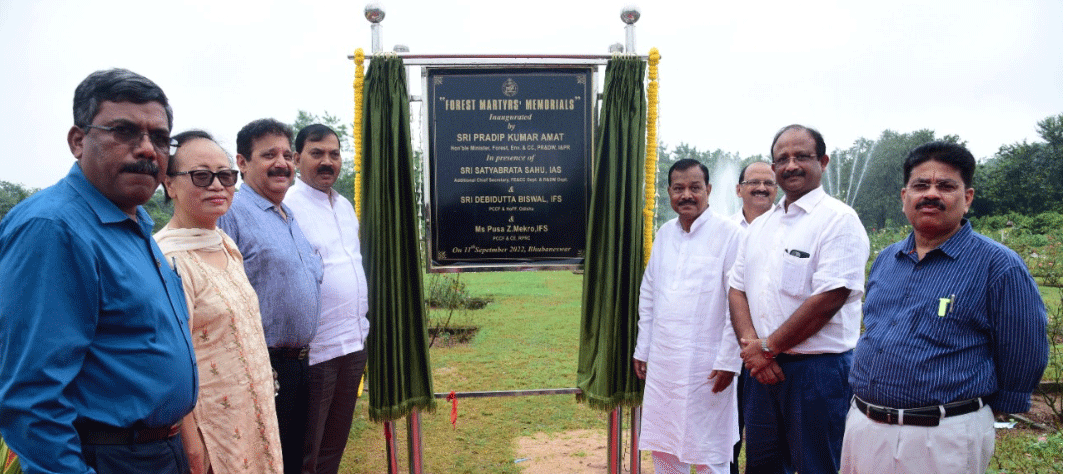 Team Forest has erected the Martyrs' Tower in the sprawling Campus of the Regional Plant Resources Center (RPRC) here in memory of the Forest Officials who laid their lives to protect the flora and fauna of Odisha Forests.
At least 21 Forest Officials and Field Functionaries have been listed in the Martyr's Towers, who have laid their lives, while in action.
Pradip Kumar Amat, Minister Forest, Environment and Climate Change inaugurated the Tower in august presence of Additional Chief Secretary Forest, Environment and Climate Change, Satyabrata Sahu.
PCCF & Hoff Debidatta Biswal, PCCF Wildlife, Sushil Kumar Popli, Chief of RPRC Pusa Zhule Mekro, Member Secretary Odisha State Pollution Control Board (OSPCB) Dr.K. Murugesan and others were present.
Minister Mr.Amat lauded efforts of the Forest Officials, who are facing daunting task in the forest, while protecting the rich forests, wildlife and fauna. However they have been successful in protecting the natural resources and helping the State.
He urged for the maintenance of balance of nature and for which protection of forest and wildlife is very much needed.
Man-Animal Conflict and Forest fire are some of the adverse conditions, the Forest Officials are facing in the Forests and in such conditions they try to protect the natural resources, pointed out Minister.a