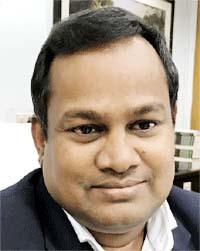 Bhubaneswar: In order to make marriage registration hassle free Odisha Government has amended the Odisha Special Marriage Rules and accordingly sitting in the home through electronic mode marriages can be registered.
Bishnupada Sethi, Principal Secretary, Revenue and Disaster Management has held discussions with senior officials on implementation of the new rules and the mode to use the facility.
Under the amended provision notice of intended marriage shall be given to the designated Marriage Officer by both bride and bridegroom either in person or by registered post or in electronic mode alongwith the prescribed fee.
Where notice for marriage registration is submitted in electronic mode, the fee prescribed shall be paid in e-Challan and in other cases the fee shall be paid by treasury challan or in cash or in any other mode at the office of the concerned Marriage Officer.
It is prescribed in the amended rule that where notice for marriage registration is filed in electronic mode, the same shall be sent to the respective parties through their registered mobile number or E-mail ID. After observing all the formalities, if satisfied, the Marriage Officer shall issue certificate of marriage free of cost to the parties to the marriage in electronic form with proper authentication.
As per the modified provision the Marriage Officer will exhibit the copy of the application in public places and also in the designated web portal inviting objections, if any, within 30 days from the date on which the matter was notified.
It is further stated that after hearing the objection to the registration of marriage, if satisfied, the Marriage Officer will enter a certificate of the marriage in the marriage certificate book and will issue the required marriage certificate accordingly.
Bishnupada Sethi, Principal Secretary of Revenue and Disaster Management has instructed Inspector General of Registration (IGR) to popularize and implement the new marriage rules.
Mr. Sethi has advised people especially the bride and grooms to avail e-Marriage facilities. In this regard one can apply for marriage registration through https://igrodisha.gov.in and can deposit the required fees through SBI e-PAY of Odisha Treasury Portal.
Mr. Sethi has further stated that during the COVID-19 Pandemic such e-Marriage registration will reduce congregation in the designated marriage offices.
He has also appealed people to register all the marriages in the modified simplest manner.
In the meantime the amended act has been published in the Odisha Gazette and is made operational, a senior official of the Department of Revenue and Disaster management said.