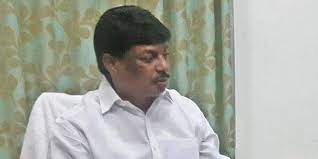 Bhubaneswar: Chief Minister Naveen Patnaik has allotted a crucial Revenue and Disaster Management portfolio to senior lawmaker Sudam Marndi following the resignation of Pramila Mallik from the Ministry.
Shri Marndi, who is now holding the School and Mass Education Department, has already served as Revenue and Disaster Management Minister from May 2019 to June 2022. 
Odisha is facing cyclones or floods almost every year and the season has already started now. So, without making any delay, the Chief Minister has allotted the Revenue Department to Shri Marndi as he has experience in that Department, sources said.
Notably, Pramila Mallik resigned from the Naveen Patnaik Cabinet as she has been nominated by the BJD for the Assembly Speaker post. With Shrimati Mallik's resignation, the Naveen Patnaik's Council of Ministers now has 20 Ministers including the Chief Minister.
Meanwhile, Shrimati Mallik, a six-time MLA, has filed her nomination for the post of Speaker of the Odisha Legislative Assembly. She submitted the paper to the Assembly Secretary.
Speaking to media persons yesterday, Shrimati Mallik had thanked the Chief Minister for reposing faith in her and selecting her for the top Constitutional post.
"I will ensure that the Assembly functions in an impartial manner by holding discussions with Opposition parties By nominating me for the Speaker post, the Chief Minister has once again proved that women are capable of doing everything," she had stated.
Shrimati Mallik is all set to become the next Speaker of the Assembly as the Governing BJD has 113 MLAs in the House of 147 members. The opposition BJP has 22 lawmakers, 9 MLAs belong to Congress. Both Independent and CPI (M) have one member each in the OLA.
Sources said opposition BJP and Congress will not field any candidate in the Speaker's election.
The election to the Speaker post will be held at 9:30 am on September 22, coinciding with the beginning of the monsoon session of the Assembly. The session is scheduled to continue till October 4. The date for filing nominations for the post has been scheduled for September 21.
Earlier, the election of the Speaker was scheduled to be held on September 21 and the filing of nomination on September 18. After the opposition BJP and Congress announced to boycott the election as it coincided with Nuakhai, the mass agrarian festival of Western Odisha, it was shifted to September 22 and the filing of nominations to September 21
The post of Speaker fell vacant after Bikram Keshari Arukha was appointed as Finance Minister in the last Cabinet reshuffle.