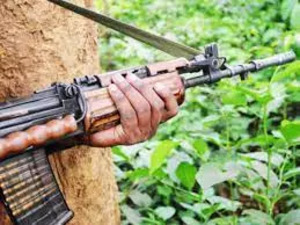 Bhubaneswar: Maoists are now targeting civilians and it seems ahead of the three-tier Panchayat Elections, the Left Wing Extremists (LWE)s are now active.
They have triggered violence as the cases are reported in Kalahandi and Kandhamal, which were experiencing peaceful period during earlier days.
Within a week, two innocent civilians have been killed in two landmine blasts, which were planted by Maoists.
Experts feel that Maoists are shifting their bases from Malkangiri to Kandhamal Kalahandi, Nuapada, Balangir and other areas.
Challenging the State Administration, the red ultras have also put up posters in various LWE affected areas with an appeal to the people to boycott the ensuing Panchayat polls along with some other demands.
As per reports, on 9 February, a youth was killed in an IED (improvised explosive device) blast suspected to be planted by Maoists in Kandhamal district. The deceased has been identified as Priyranjan Kanhr, a resident of Kiamunda village, the police said.
The incident occurred near a Maoist poster put up near Sadingia-Kiamunda village under Phiringia police station of Kandhamal district, just four days after the death of a journalist in a similar blast in neighboring Kalahandi district.
On February 5, Rohit Biswal (43), a journalist was killed in a similar IED blast while covering posters put up by Maoists in Kalahandi district. In between, the Maoists have also torched two big road construction vehicles on Monday midnight in Kandhamal district.
Though the police suspect that the blasts happened accidentally not with an intension, however questions are being raised on sudden rise in Maoist menaces in the State, specifically in the area where Kalahandi-Kandhamal-Boudh-Nayagarh (KKBN) division of the banned CPI (Maoist) is operating.
As only a week left to the beginning of voting for the rural poll, now it has emerged as a big challenge before the State Police and other Central security forces deployed for anti-Maoist operations, to ensure a smooth and violence free poll.
According to a retired police officer, the security forces should have to strengthen their intelligence network and anti-Maoist operations in all LWE affected areas including the areas where cases of Maoist violence are reported.
Secondly Security Forces are needed to scan these areas and take control of situation as growing menace of LWE violence will jeopardize free and fair elections in rural zones, apprehend peoples' representatives.
With border zones are not sealed, free movement of more Maoists into the State is likely to spur such violence, feel experts.