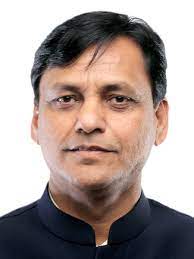 New Delhi: As many as 1246 Left Wing Extremism (LWE) menace cases and 357 related deaths were reported in Odisha during 2010 and 2021.
This was informed by Union Minister of State for Home Affairs, Nityanand Rai, told Lok Sabha in a written statement on Tuesday.
Shri Rai said steadfast implementation of the National Policy and Action Plan to address LWE has resulted in consistent decline in violence in LWE affected areas.
At national-level, incidents of LWE violence have reduced by 77% from a high of 2213 in 2010 to 509 in 2021. Similarly, resultant deaths (civilians + security forces) have reduced by 85% from a high of 1005 in 2010 to 147 in 2021.
In Odisha, the number of LWE incidents has drastically come down to 32 in 2021 from 218. Similarly, the resultant deaths (civilians + security forces) have been reduced from 79 in 2010 to 3 in the last year.
Geographical spread of violence has also significantly reduced and only 191 Police Stations of 46 districts reported LWE related violence in 2021 as compared to a high of 465 Police Stations of 96 districts in 2010.
Decline in geographical spread is also reflected in the reduced number of districts covered under Security Related Expenditure (SRE) Scheme. SRE districts reduced from 126 to 90 in April 2018 and further to 70 in July 2021, said the Union Minister.
Ten districts of Odisha have been covered under the SRE scheme. The districts are– Bargarh, Bolangir, Kalahandi, Kandhamal, Koraput, Malkangiri, Nabarangpur, Nuapada, Rayagada and Sundergarh.
In another reply, Shri Rai said for the social and economic development front, the Ministry of Home Affairs works in close coordination with other Ministries for optimum implementation of the flagship schemes of those Ministries in LWE affected areas.
More than 974 km of roads have been constructed in LWE affected areas of Odisha under two specific schemes.
For improving telecommunication connectivity, 256 mobile towers have been installed and work orders issued for another 483 towers in the State.
A total of Rs 3105 crore including Rs 234.33 crore to Odisha has been released to the Most LWE affected districts under Special Central Assistance (SCA) scheme to fill critical gaps in public infrastructure and services. Under this scheme, various types of projects have been undertaken like road repair, improvement in health infrastructure, education related projects, rural infrastructure projects etc, he informed.
Further, towards educational empowerment, five Industrial Training Institutes and 10 Skill Development Centers have been approved under "Skill Development Scheme in Maoist affected areas of Odisha. The Centre has sanctioned 64 Eklavya Model Residential Schools (EMRSs) to Odisha, of which 18 are functional.
For financial inclusion, 49 Bank Branches, 95 ATMs and 1144 Banking Correspondents have been established in LWE Affected Districts of Odisha and 247 Post Offices have been opened in such areas of the State in two phases in the last seven years.