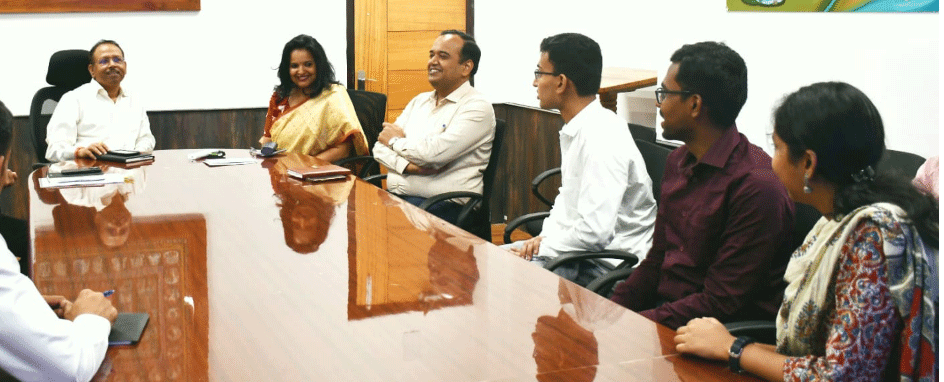 Bhubaneswar: Chief Secretary Pradeep Jena has urged the IAS Probationers to study about the governance system of the State and advised them to acquire more and more knowledge about Odisha.
Six Indian Administrative Service (IAS) officers of Odisha Cadre, who are to undergo training in Odisha at Gopabandhu Academy of Administration in Bhubaneswar, paid a courtesy visit to the Chief Secretary, Shri Jena at Lok Seva Bhawan today .
Chief Secretary said that they can get huge opportunities to work in Odisha. Shri Jena also spoke about the transformation of Odisha in many sectors like in implementation of State Food Security Scheme, Jaga Mission, High School Transformation, Millet Mission, development of Sports Infrastructure etc. He also said that the State government has been emphasizing on good governance.
Shri Jena also asked IAS probationers to utilize their innovations into action and make suggestions to the government as and when required.
Shri Jena also said that IAS officers, who have to join in Odisha from different States of the country, to learn Odia language.
He cited the examples of many IAS officers working in the State who are speaking well in Odia language. Citing about the 1999 super cyclone in Odisha, he spoke about the current practices of natural disaster Management. From 2005 till date, Odisha has done well in the field of financial management.
He said Odisha is one of the leading States in the country in different aspects. He also asked them to know better about law and order. These probationers will also witness Rath Yatra in Puri Jatra on June 20.
These 2022 batch IAS officers of Odisha Cadre will undergo training at the State level as well as in Mayurbhanj, Ganjam, Jharsuguda, Sambalpur, Sundargarh and Koraput districts for one year. After completing their training in Odisha, they will undergo training at the Lal Bahadur Shastri National Academy of Administration in Uttarakhand and join work in their respective districts allotted for them in Odisha.
During the courtesy call on the Chief Secretary, Development Commissioner, Anu Garg, Principal Secretary Finance, Vishal Dev and Director, Gopabandhu Academy of Administration, Manish Agrawal were present and participated in the discussion.