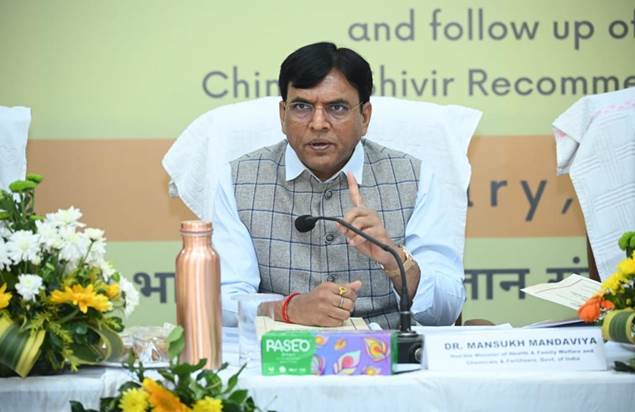 Bhubaneswar: Union Minister of Health & Family Welfare, Mansukh Mandaviya addressed the 6th Meeting of the Central Institute Body (CIB) of All New AIIMS, here today.

He was joined by Bharati Pravin Pawar, Minister of State for Health and Family Welfare, Anil Jain, Member of Parliament, Ramesh Bhiduri, Member of Parliament and VK Paul, Member (Health), NITI Aayog. 

Rajesh Bhushan, Union Health Secretary, Rajiv Bahl, Secretary, Department of Health Research and Atul Goel, Director General of Health Sciences were also present on the occasion.
CIB is the highest decision making body of all AIIMS for finance, infrastructure, vacancy, recruitment, enforcement of policies, challenges and procurement. The agenda of today's CIB meeting was to review compliance of decisions taken in earlier CIB meetings.
Welcoming all participants, including representatives of all AIIMS, eminent experts and special invitees to the 1st CIB meeting held outside Delhi, Dr Mandaviya said "this CIB is not only for review of compliance of earlier decisions but is also a Chintan Shivir for pooling in insights, fresh ideas, innovative thoughts and suggestions based on rich experience and expertise of all participants".
He emphasized that all AIIMS are pivotal national institutes of tertiary care and the vision is to make them institutes of global excellence. He further stressed that this can only happen with superior quality, clinical care, highest standards of medical education and cutting edge research.
Providing a platform for thought provoking ideas and issues for larger collaborative 'Samvaad', he encouraged the dignitaries to take "learnings from other Institutes of National Importance such as IITs and IIMs".
Highlighting the need for creation of metadata for AI and a professional work culture that can provide superior outcomes, the Union Minister encouraged all the AIIMS Directors to create innovative models of functioning and present them in the next CIB meeting. He also urged all the officials to steadfastly work towards making AIIMS able to compete with the best in the world.
Dr Mandaviya appreciated the work done by all the AIIMS based on the recommendations of the previous CIB meetings. He urged the dignitaries to collaboratively work on the identified domains of improvement and make detailed reports on them. He also suggested them to further brainstorm on the important points discussed in today's meeting. "We have to collectively set a new benchmark in India's healthcare system", he stated.