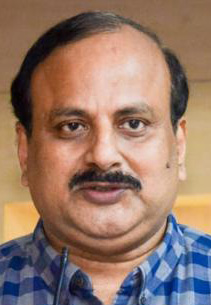 Bhubaneswar: The 'man-eater' male leopard, which was captured by Wildlife officials on Saturday night from Dharambandha area on the outskirts of Sunabeda Wildlife Sanctuary in Nuapada district, is now under observation, said Principal Chief Conservator of Forests (PCCF), Wildlife, Susanta Nanda.
Speaking to media persons here today, Chief Wildlife Warden (CWLW) Shri Nanda said, "We have trapped the leopard, which is responsible for the death of two persons in Nuapada area." The leopard was captured in a cage when it entered a house in Kodapali village after injuring a minor boy, he said.
The leopard is now under observation in the range office. Movements are being closely monitored. The tiger is eating and drinking water normally. It is being investigated why he behaved abnormally. Expert team has been sent for proper monitoring of the wild animal, the PCCF (Wildlife) informed.
Asked about the third leopard located in the area, CWLW, Shri Nanda said, "As per our past records, there was no third leopard cited in that area. However, we have installed cameras to capture the wild animals."
The PCCF Wildlife further said the government has initiated steps to pay compensation of Rs 6 lakh to family members of each of the deceased. The amount will be paid within the next 15 days, he added.
The leopard will be around 7 to 8 years old. The animal is fit as it was. The leopard had allegedly killed a woman and a minor boy and injured another minor in the sanctuary and its outskirts in the last seven days.