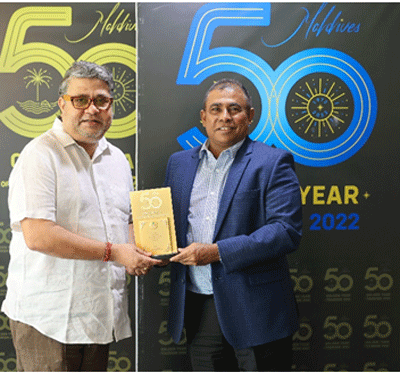 Bhubaneswar: Ace Hotelier Salil Panigrahi has been conferred 'Maldives President's Tourism Gold Award' for his exemplary contributions to the island nation's tourism sector.
Shri Panigrahi is the Managing Director of Atmosphere Hotels & Resorts, Maldives.
This recognition marks a moment of pride for Shri Panigrahi and the entire team of Atmosphere Hotels & Resorts.
Shri Panigrahi is a proud Indian who is born and raised in Odisha.

He has been awarded the prestigious Pravasi Bharatiya Samman 2021 by the President of India in the Tourism category.
This was given for his contribution to the tourism industry in Maldives and for strengthening the relationship between India and Maldives through his Indian Ocean hospitality brand.
The award recognizes his stellar contribution to the tourism sector through the development of acclaimed resorts in the Maldives which has enhanced India's reputation.
Having successful ventures in the Maldives and upcoming resorts in Sri Lanka, now Atmosphere Hotels & Resorts has set its sights on expanding in India, Nepal,and Bhutan.
The Island Country, The Maldives is celebrating its Golden Jubilee year to commemorate its Global Tourism presence. Hence to recognize the effort of the tourism stakeholders for their contribution, Shri  Panigrahi has been honoured.
Atmosphere Hotels & Resorts is a hospitality group with its registered office in Singapore and corporate office in the Maldives.
The Hospitality Group manages eight world class island resorts in the Maldives.
On the horizon, are three distinct new properties: one in Kolkata in India, an island resort in the Maldives, and a third resort in Sri Lanka, said an official of the Group.
Under the leadership of Souvagya Mohapatra, Managing Director of Atmosphere Hotels & Resorts for India, Nepal, Bhutan & Sri Lanka, the company has already signed a few luxury hotel management agreements for its India operations and has many more in pipeline.
On this proud moment Shri Mohapatra while congratulating Shri Panigrahi's effort added "Both Salil and I, being from Odisha, are greatly enthused to promote and develop the tourism industry in Odisha and in our country. We are delighted to note that there is now an enhanced confidence in the hospitality and tourism industry in Odisha, hence, the company and its Board of Directors have decided to set up World Class Resorts at Bhubaneswar, Puri, Konark, Chilika Lake, Koraput, and other scenic destinations through FDI and its worthy investors."