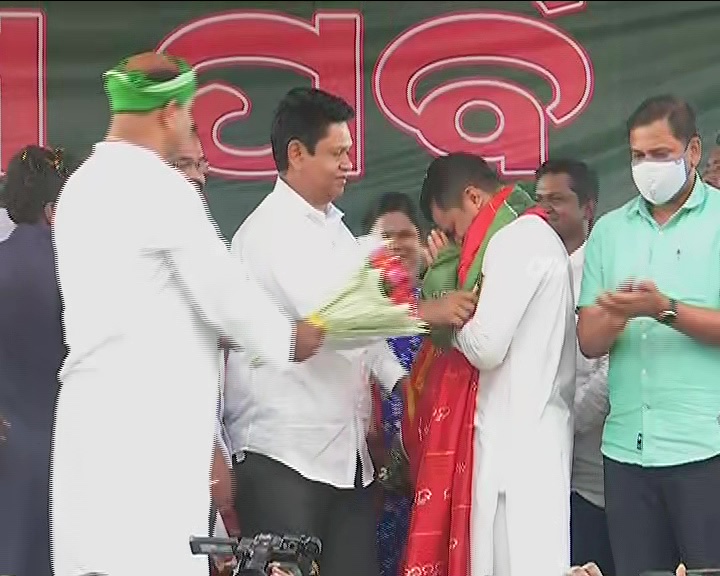 Nabarangpur: Former State Congress Working President and ex-MP Pradeep Majhi has formally joined governing Biju Janata Dal (BJD) in a special event here on Saturday.
Several supporters of Mr.Majhi, and other Congress leaders also joined the ruling party in Odisha.

BJD Organisation Secretary Pranab Prakash Das welcomed Mr.Majhi to the party fold.
Minister of Sports of Sports and Youth Services, Tusharkanti Behera and local MP Ramesh Majhi were present at the joining ceremony.
Pradeep Majhi said he has joined the BJD for the development of his constituency and undivided Koraput region. The leader further said that he saw that BJD is the only party in the country, which is rising in every election in the State.
He said the BJD party has promised him to look after the issues and problems raised by him when he was in the Congress party.
The BJD, Majhi said has given a stable Government to the State and launched many developmental works adding he would try to further strengthen the BJD in the region and help in implementing the development works started by the Government.
The former working president of Odisha Pradesh Congress Committee (OPCC) had resigned from National Congress Party on October 22, 2021.
Pradeep Majhi began his political career as elected President of Zilla Parishad from Nabarangpur. He was elected to the Lok Sabha in 2009 from Nabarangpur segment in Odisha. However, he lost last two MP elections in 2014 and 2019 from the seat.
Former MLAs Chandrasekhar Majhi and Kailash Chandra Kulesika had in the recent past had also joined the BJD.