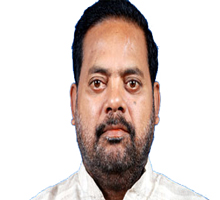 Veteran Biju Janata Dal Leader and Lawmaker of Pipili, Pradeep Maharathy is no more.
Mr.Maharathy was one among the 51 Lawmakers of Odisha who had infected with the Novel Corona Virus(COVID-19).

He was discharged from hospital as he recovered from the disease. However later again he was admitted to a private hospital where the Lawmaker was put under ventilator support. He was 65.Born on 4 July, 1955 at village Khorapada in Pipili.

A vibrant leader, Mr.Maharathy started his career as a student leader from SCS College Puri and was elected President of College Students' Union.

He was a Senate Member of Utkal University. Later he joined politics and was elected to Odisha Legislative Assembly first time in 1985 as Janata Patry Lawmaker under Biju Patnaik leadership.

He was active in Cooperative Movement and was President of MARKFED, District Central Cooperative Bank and other cooperative institutions.

Since 2000 he is continuously being elected to Odisha Legislative Assembly from Pipili with BJD Ticket.
Mr.Maharathy was Government Chief Whip, Minister of several major departments like Agriculture, Fisheries, Animal Husbandry Panchayati Raj.

Chief Minister Naveen Patnaik had spoken to his family members and wished for his recovery on 3 October.
Mr.Patnaik had also requested the senior physicians monitoring the treatment of the former Minister that the best treatment possible is needed be ensured for his speedy recovery. However he succumbed to Virus.
His mortal remains was taken to Odisha Legislative Assembly, where Speaker Surjya Narayan Patro, Parliamentary Affairs Minister Bikram Kesari Arukh, Senior BJD Law Maker Debi Prasad Mishra, Jajpur Lawmaker Pranab Prakash Das and other Lawmakers laid flower wreath on the body of departed soul. Chief Minister Mr.Patnaik has expressed deep grief at the passing away of veteran leader Mr.Maharathy .
The Chief Minister has described him as a stalwart of BIju Janata Dal and a long time associate of Biju Babu .
Known for his exceptional organisation capacity he had won from pipili consecutively for 7 the time .
He was a  true leader of people, said Chief Minister. 

Chief Minister conveyed his deep sympathy to the bereaved family and the people of pipili  The mortal remains of the departed soul will be cremated with full State Honours .
His last rites would be performed at Swargadwar, Puri in the afternoon, said sources.