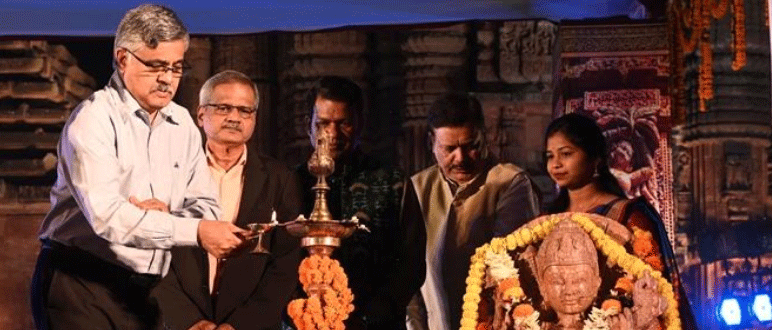 Bhubaneswar: Ace Art Connoisseur, R Balakrishnan, Chief Advisor to Chief Minister inaugurated the Rajarani Music Festival Day II here on 13 November.
The pleasant weather in the evening at the verdant premises of the magnificent Rajarani temple bedecked with colourful lights and appliqué works synchronized with enchanting and sonorous music by great stalwarts attributed to a large gathering on the second day of Rajarani Music Festival.
The evening's first program was Sarangi player Ustad Sabir Khan presented Sarangi in Rag Koshikana tin taal, Rupak Tal followed by different traditional compositions blended with melody and rhythm gave a total effect which was very soothing and melodious. The beauty and vitality of every melody type expressed the inherent Rasa and Bhava in the Sarangi. He was accompanied by Mr. M. R. Nazar on Tabla. The programme was highly appreciated by the audiences.
In the second phase Odissi vocal recital by the great singer and a versatile artiste Guru Dr. Bijay Kumar Jena. His first recital was Sloka – Niladrawo Sankha Madhye followed by Odissi Raganga Prabandha – Aaja mu dekhili ghana shyama ku go set to Rag-Bilahari and Tala-Ekatali. His second item was Sakhi he keshi mathana mudaram set to Rag- Misrapahadi, Tala- Jati and written by Poet Jayadev.
Third item was Bhabanga Prabandha – Baraja bidhure ana set to Rag-Marwa and Tala-Ekatali. Forth song was Chhanda Prabandha – Aha dhanurdhara birabara written by Biswanath Khuntia and his last song was Natyanga – Dhira samire basi dakuchhi to na re set to Rag-Vairabi, Tala- Rupak and written by Poet Gopal Krushna.
He was accompanied on Mardala by Guru Sachidananda Das, on Flute Guru Srinibas Satapathy, on Harmonium Balakrushna Jena and on Tanpura Vaishanbi Ghosh. The Odissi songs presented by Guru Dr. Jena were marked with remarkable euphony and variegated graceful embellishment punctuated by indigenous rhythmic patterns. The music lovers present were deeply engrossed by the superb and impeccable elaboration of different Rags and musical patterns, clear tonal quality and musical renderings. His presentation was highly applauded for it was intellectually satisfying and emotionally appealing.
The dignitaries who graced the occasion Dillip Kumar Bisoi, State Information Commissioner; Sudarsan Pattnaik, International Sand Artist & President, Odisha Lalit Kala Akademi; Ranjan Kumar Das, Director, Odia Literature, Language & Culture and Prabodh Kumar Rath, Secretary, Odisha Sangeet Natak Akademi.
The program was anchored by Dr. Sangita Gosain and Anuja Tarini Mishra. Subodh Acharya, Joint Director, Odia Language, Literature and Culture Department were present in the program. Officials of Sangita Nataka Academy were coordinating the music festival.