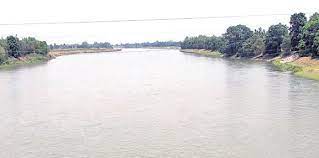 Leaders of several opposition political parties in the State have strongly opposed the proposed Khrasrota Mega Drinking Water Project at Bharigada under Rajkanika block in Kendrapara district.
Left parties, Congress and BJP leaders have opposed the move of the State Government to provide drinking water from the river in Kendrapara district to neghibouring Bhadrak district. All the three parties have opposed after sending delegations at different times to the project site to know the ground situation.
Senior CPI leader and ex-MLA from Pattamundai, Radhakanta Sethy said there is no need to carry water from the Khrasrota River to the Bhadrak district, which has enough sources of water. Even, people from Bhadrak district never seen hitting the street for the water crisis, he said.
"The move is to feed water to an industry of a big corporate house. Everyone knows that saline water is a big problem for the Rajkanika block and Aul area. If the water will be drawn from the river, it will have a severe impact on agriculture, environment and biodiversity," Mr.Sethy said.
Due to the apathy of the Government, the peaceful area has been converted into a battlefield. Therefore, the Government should immediately scrap the project, he demanded.
Expressing a similar view, former Aul MLA and Congress leader Debendra Sharma said, "We had requested the Government to construct an in-stream barrage over Kharasrota River and supply the water to Bhadrak district. Diversion of water from the river will result in water scarcity in Kendrapara."
Meanwhile, a team of BJP leaders today visited the project site and held discussions with members of Save Kharasrota Sangram Samiti which is protesting the project for a long time.
BJP State General Secretary Prithviraj Harichandan said, "I feel this project is unnecessary. Bhadrak district has multiple sources of drinking water. In spite of this, taking water from far off Kharasrota River in Kendrapara district which is struggling with depleted groundwater level is baffling us."
With the execution of the project, people of the local area will not be affected it will also put an impact on the natural habitat of Bhitarkanika National Park, said Mr.Harichandan.
The BJP leader urged the State Government to conduct a public hearing as soon as possible and stop the project work immediately.
The project has been approved by the State government under Basudha Yojana to supply drinking water to Chandabali, Tihidi, Basudevpur and Dhamnagar blocks besides 47 wards in Basudevpur municipality, Dhamanagar and Chandabali NACs of Bhadrak district. However, a section of the public in Kendrapara's Rajkanika and Aul are opposing the project.
The District Administration on Saturday began executing the drinking water project worth Rs 754 crore on the Kharasrota river amid heavy security. Twenty-two additional platoons of police force have been deployed in the area.