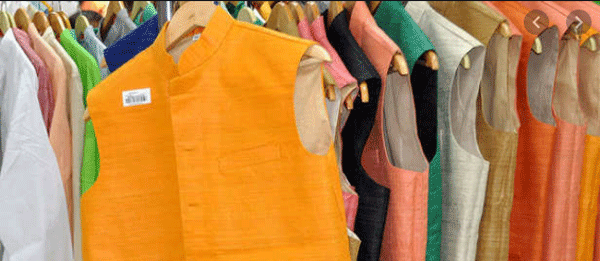 Prime Minister Narendra Modi said "My dear countrymen, today when we are going vocal for local, the whole world are also becoming a fan of our local products."
Participating in Mann Ki Baat , PM said many of our local products have the potential of becoming global. One such example is Khadi.
Khadi has remained a symbol of simplicity over a long period of time but now our khadi is getting known as an eco friendly fabric.
In terms of health, this is a body friendly fabric, an all weather fabric and now it has also become a fashion statement.
Not only is the popularity of khadi rising it is also being produced in many places of the world.
There is a place in Mexico called Oaxaca, there are many villages in this area where the local villagers weave khadi.
Today the khadi of this place has gained popularity by the name Oaxaca khaadi. How khadi reached Oaxaca is no less interesting.
In fact a young person of Oaxaca, Mark Brown once watched a movie on Mahatma Gandhi. Brown got so inspired by watching this movie on Bapu that he visited Bapu's ashram in India, understood him and learnt about him in depth. It was then, that Brown realized that khadi was not just a cloth; it was a complete way of life. 
Brown was deeply moved by the way khadi was intertwined with the rural economy and self sufficiency.  It was here that Brown resolved to work on khadi on his return to Mexico.  
He introduced the villagers of Oaxaca in Mexico to khadi and trained them. And now Oaxaca khadi has become a brand. The website of this project bears the inscription 'the symbol of Dharma in motion'.
You can also find a very interesting interview of Marc Brown on this website. He narrates that initially the people were wary of khadi but ultimately they got interested and a market got ready for it.
He states that these are matters related to Ram Rajya, when you fulfill the needs of the people, the people start connecting with you.
Friends, this time on Gandhi Jayanti the khadi store in Cannaught Place at Delhi witnessed purchases of over one crore rupees in just a day.
Similarly the khadi masks have also become very popular during Corona. Self help groups and other such institutions are making khadi masks in many places of the country.
There is a woman Suman Devi Ji in Barabanki of U.P. Suman ji , along with her friends of a self help group started making Khadi masks