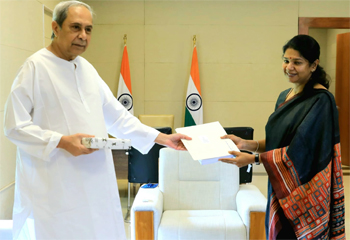 Bhubaneswar: DMK Parliamentary Party Deputy Leader Kanimozhi Karunanidhi today met Chief Minister Naveen Patnaik here at Naveen Niwas.
During the meeting Ms.Kanimozhi handed over a letter of Tamil Nadu Chief Minister MK Stalin to Odisha CM and explained about the problems faced by students from rural areas and from poor households in clearing NEET exams.
In his letter, Mr.Stalin has drawn the attention of Patnaik regarding the problems faced by students of rural base in clearing National Eligibility cum Entrance Test (UG) examination and the need to make the exam inclusive.
Chief Minister had earlier raised this issue with Union Government and stressed the importance of making national exams inclusive and suggested Central government to take steps in this regard covering NEET, IIT and UPSC.
Several candidates appearing for NEET have ended their lives in Tamil Nadu over the years due failure to clear the nationwide entrance examination, prompting the State Assembly to pass a bill to dispense with NEET and allow admission on the basis of class 12 marks to ensure "social justice".
While a delegation of DMK MPs met Andhra Pradesh Chief Minister YS Jagan Mohan Reddy on Monday, Ms.Kanimozhi was sent to meet Mr.Patnaik, who had earlier raised the issue with the Centre and stressed the importance of making national examinations inclusive, including those for admission to the IITs and those that are conducted by the UPSC. There was no official word on whether the two leaders discussed politics.
In February 2017, Odisha Chief Minister had dashed off a letter to the then Union Health Minister Jagat Prakash Nadda seeking his intervention to remove the restriction on number of attempts for National Eligibility Cum Entrance Test (NEET-UG).
"It is surprising to note that before taking such an important decision, which will decide the future of a large number of students, the views of the State Government have not been sought for", Naveen had said in his letter.
"Such a restriction will deprive a huge number of students from pursing medical and dental courses leading to widespread resentment amongst them", Mr.Patnaik had stated.