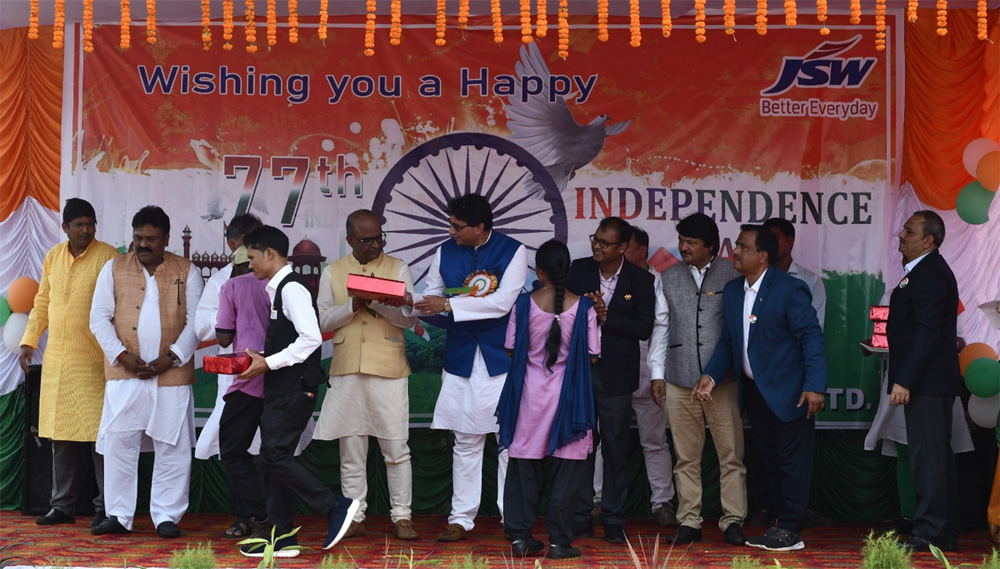 Barbil: JSW Jajang colony ground echoed with Vande Mataram during the celebration of 77th Independence Day here on Tuesday and the whole JSW Steel (Odisha Mines division) family paid homage to the freedom fighters with patriotic fervour.
Chief Operating Officer (Mining) for JSW Steel Limited Sauvick Mazumdar hoisted the flag and guided through the independence journey to the congregation. The present dignitaries also emphasized the importance of the day, recognizing the sacrifices of national heroes who laid down their lives for the independence of the nation.
The event was glittered with arrays of cultural activities depicting the glory of India. Prioritizing safety first, the fire team also demonstrated a fire mock-drill showcasing quick response to any kind of fire mishap.
In addition, there was a felicitation ceremony recognizing the company's young talents. The winners were given away awards in different categories. Moreover, Nuagaon Iron ore mines conducted a Monsoon Event as part of celebrating Independence Day. The event was participated in by 178 operators.
The environment department of the premier steel making company showcased the best example of waste management on the occasion. They prepared a Mahatma Gandhi Photo made of waste that was fascinating to watch.
Independence Day was celebrated with patriotic fervour at all JSW Steel locations in Odisha such as the Jajpur site office and Bhubaneswar office.