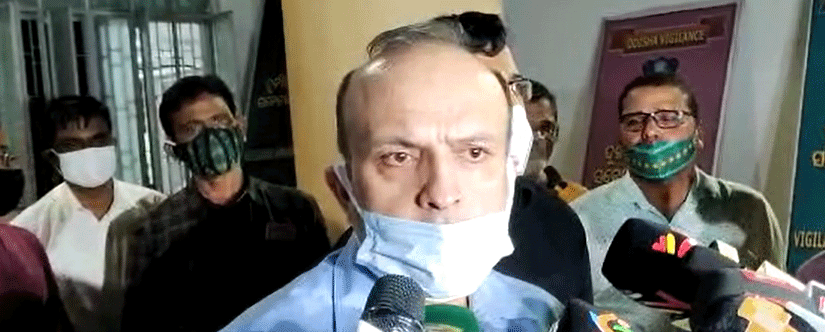 Bhubaneswar: Senior IPS officer and Director Vigilance YK Jethwa on Wednesday warned all government servants, who are indulging in corrupt practices.
Speaking to reporters, Mr.Jethwa informed about the steps taken to further strengthen the anti-corruption wing and said, "We are committed to take stronger actions against corruption in coming days."
He told this in the wake of the arrest of Pratap Kumar Samal, a deputy manager of the Odisha Police Housing & Welfare Corporation (OPHWC) for owning huge amounts of disproportionate assets.
"We have a proficient pool of skilled investigators, a legal team comprising legal advisors, counsels and prosecutors to strengthen legal aspects, a financial wing with professional CAs, banking officers etc to do in-depth analysis of financial transactions," the Vigilance Director said.  
He said the Vigilance Directorate has also a technical wing comprising civil engineers for valuation of properties.
"We are going towards infusion of the latest technology to help aid in investigations," the senior IPS officer further said.
In June this year, Yashwant Jethwa, a 1994 batch IPS officer took charge as Director Vigilance following the sad demise of former director Debasis Panigrahi.
After joining, he had urged the officers to exploit the advancements in the field of technology and forensic science to strengthen detection, investigation, and prosecution.
After conducting raids at 10 locations, the anti-corruption wing of Odisha Government has found disproportionate assets to the tune of Rs 14.87 crore from OPHWC deputy manager Samal. The assets are 1021 percent of the known sources of income, sources said.
During the raid, the vigilance teams found 25 plots whose registration and stamp duty was about Rs. 3.41 crore. The actual price will be much higher, the source said.
Samal and his family members have a total bank balance of Rs. 1.61 crore and they paid insurance premiums of Rs.57.72 lakh. The bank accounts have been on freeze. Further investigation is on, they said. The official has been arrested today and will be forwarded to the court of special judge, vigilance, Bhubaneswar soon.