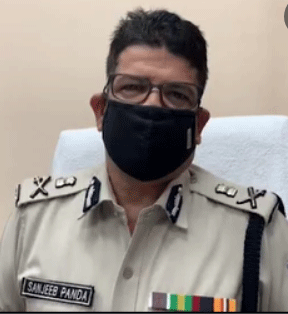 Bhubaneswar: In a major achievement, the cyber team of Odisha Crime Branch has arrested three members of inter-state cybercrime group, Jamtara gang in Bhubaneswar on Saturday.
Crime Branch Chief Sanjeeb Panda said that the Jamtara gang has a large network across India and the agency has launched a detailed investigation to trace various cyber crimes that are being committed in the capital city and other parts of the country.
The three fraudsters have been identified as Pradhum Kumar Mandel, Krishna Kumar Mandal and Chetlal Mandal. All the three are residents of Jharkhand. They were living in a rented house in Bhubaneswar since December last year, the ADG Crime Branch said.
Many incriminating materials, including 33 SIM cards belonging to Bihar, Jharkhand and West Bengal telecom circles were seized from their possession.
During the interrogation, the police found that the culprits were contacting a large number of people of Odisha and other States by sending bulk SMS to them and making voice calls impersonating themselves as bank officials collected their credential and siphoned of a huge amount of money from the gullible bank account holders which has been unearthed during investigation.
Their modus operandi consisted of purchasing a list of mobile numbers from suspected sources and then impersonating themselves as bank officials they contacted the victims under the guise of updating account number/ KYC etc using prepaid SIMs.
They purchased hundreds of pre activated SIMs cards and frequently change them use them on different mobile set so that nobody can get any clue about their identity After getting the credentials of the people deceived they transferred the money from the account of the victim to various digital payment platforms like Paytm, Google pay, Phone pay etc .
Then they used to purchase gift vouchers using the cheated money which was then utilized to purchase expensive items. Using these fake SIMs they have contacted more than 4,38,834 people in different States including Odisha.
On verification it was further ascertained that they were wanted in 171 incidents of crime in more than 20 States of the country.
The three accused are part of a larger group which keep some moving independent parts of the country and commit Cyber Crime so that they are not detected and arrested by the police.
Earlier in 2020, the Commissionerate Police had cautioned the citizens of Bhubaneswar that the Jamtara gang of Jharkhand is active in Bhubaneswar and targeting its residents.
Notably, the Jamtara gang members have been operating in several cities of India that have massive internet usage like Bhubaneswar in Odisha, Bharatpur in Rajasthan, Gurgaon in Haryana, Kolkata and Asansol in West-Bengal, Mathura Varanasi and Jalapaur in UP.