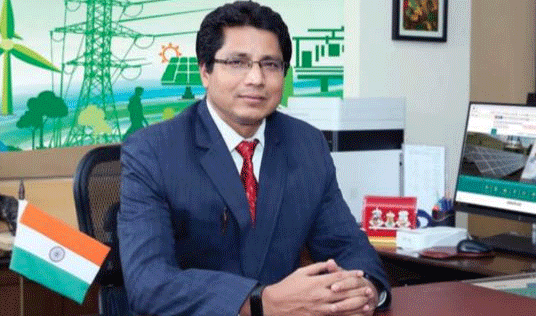 New Delhi: The Credit Rating Agency ICRA has upgraded the Long Term Bonds Program of Indian Renewable Energy Development Agency Limited's (IREDA) to AAA(Outlook: Stable) from AA+ (Outlook:Positive).
IREDA is headed by one of the most honest, visionary and dynamic mandarin, Pradip Kumar Das.
The rating upgraded fro IREDA's Rs.14,900 Crore Long Term Bonds Program for FY 2023. Rs.2806 Crore Long Term Bond Program up to FY 2022 and Rs.1000 Crore Subordinated Debt Program.
ICRA has also upgraded the rating of IREDA's 1500 Crore Perpetual Debt Program to 'AA+' (Outlook:Stable) from 'AA' (Outlook:Positive).
ICRA has reaffirmed the ratings of IREDA's Rs.4000 Crore Government of India Fully Services Bonds at 'AAA' (Outlook: Stable).
ICRA in its Rating Report has said that IREDA's credit profile with increased business volumes, improvement in the asset quality indicators supported by lower slippages and recoveries from stressed accounts over the past two years, and the consequent improvement in the earnings profile on a sustained basis.
The asset Under Management (AUM) has grown by a CAGR of ~16% over the past 4 years to Rs. 37,888 crore as on December 31, 2022.
The company's reported asset quality continued its improvement trajectory with gross and net stage 3% of 4.2% and 2.0%, respectively, as on December 31, 2022 from 5.2% and 3.1% respectively, on March 31, 2022 (8.8% and 5.6%, respectively, as on March 31, 2021), supported by limited slippages, recoveries from some loan accounts and the growth in the loan book.
Consequently, decline in the credit cost due to limited slippages and reduction in operating expenses resulted in improvement in its ROA to 2.1% in H1 FY 2023 from 1.8% in FY 2022.
Pradip Kumar Das, Chairman and Managing Director of IREDA said "We are happy with the rating upgrade from ICRA, which recognizes IREDA's strong credit profile as well as its extraordinary growth along with best quality Corporate Governance in last three years".
Shri Das also said " This would not have been possible without the continuous support and guidance from Shri R K Singh, Hon'ble Union Minister Power, New & Renewable Energy, and Shri Bhagwanth Khuba, Hon'ble Minister of State New & Renwable energy, Chemicals & Ferilizers, Shri Bhupinder Singh Bhalla, Secretary MNRE, Officials of MNRE and Board of Directors of IREDA".
CMD Shri Das said "The higher rating will enable us to access capital at lower cost, allowing us to expand out portfolio of RE project financing and support India's energy transition towards a cleaner and sustainable future".