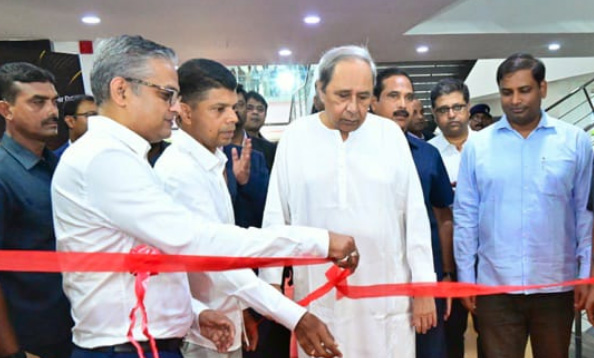 Bhubaneswar: Chief Minister Naveen Patnaik today inaugurated the centre of Infosys BPM, which stands as another compelling testament to Odisha's remarkable prowess in the IT services sector.
Chief Minister said, "I am very happy that Infosys BPM has opened operations from Bhubaneswar. I am sure that the talented youngsters of Odisha will make this high-end customer service centre a big success for Infosys." He also outlined his Government's commitment to provide Infosys all necessary support to further grow and contribute to the state.
The inauguration ceremony was attended by Minister E&IT Tusharkanti Behera, Secretary 5T VK Pandian, Principal Secretary E&IT Manoj Mishra, Special Advisor E&IT AnubhavPattnaik, Special Secretary E&IT Manas Panda, Additional Secretary E&IT Manoj Pattnaik.
Executive Vice President and Co-head of Delivery at Infosys Satish HC, VP and Development Centre Head at Infosys Bhubaneswar, Prabhat Kumar Das, and VP and Business Head at Infosys BPM Neela Mohan.
Minister E&IT Shri Behera added, Bhubaneswar has become hotspot for IT Services & Consulting Industries and with the seeding of the BPM division, Infosys has ushered in more opportunities for the State's youth and driven the economy upwards.
While thanking the Government for its support, Satish HC, Executive Vice President and Co-head of Delivery at Infosys, also praised the speed and responsiveness of the Government of Odisha in facilitating the establishment of this centre. Further outlining Infosys's plans in Odisha, he said, "the strength of Infosys will increase from 10,000 to 20,000 in the near future and Infosys BPM will contribute immensely to the growth. This centre will create considerable new job opportunities for the youth of the state."
Previously, Infosys Limited established their Offshore Development Centre (ODC) at Bhubaneswar which was their first ODC in any State located outside their headquarters in Karnataka.
The new centre of Infosys BPM reaffirms the confidence of the company in Odisha and highlights the State's strategic vision and conducive environment for Investment and favorable ecosystem for businesses.
Established in April 2002,Infosys BPM has42 delivery locations spread across 16 countries, offering an end-to-end outsourcing services provider which addresses business challenges through its integrated IT and business process outsourcing solutions.The company has been consistently ranked among the leading BPM companies globally.
The new centre of Infosys BPM Ltd. highlights the State's steadfast commitment to fostering economic growth, creating job opportunities as well as reflects its vision and capability to transform Odisha into an ideal hub for modern IT businesses and technology-driven enterprises.
As Bhubaneswar continues to thrive as a hotspot for IT services and consulting companies, Infosys BPM Ltd shall contribute immensely for creation of employment opportunities for the youth and act as a catalyst for overall growth of the IT Industry and economy of the State.