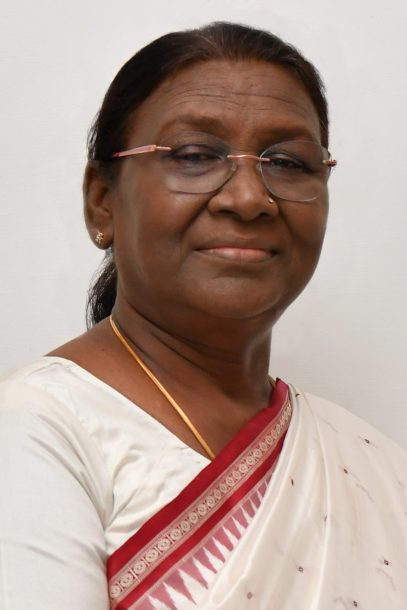 New Delhi: Shrimati Droupadi Murmu, a tribal leader from Mayurbhanj district, was sworn-in as the country's 15th President in the Central Hall of Parliament on Monday.
Smt.Murmu is the first tribal and the second woman to be elected to the highest post. She is also the first President of the country who was born in Independent India.
Chief Justice of India NV Ramana administrated oath of office to Smt.Murmu in presence of a galaxy of tall leaders across India including Prime Minister Narendra Modi, Rajya Sabha Chairman M Venkaiah Naidu, Lok Sabha Speaker Om Birla, Members of the Council of Ministers, Governors, Chief Ministers including Naveen Patnaik, Heads of Diplomatic Missions, Members of Parliament and civil and Military Officers.
After swearing-in as President of India, Smt.Murmu greeted the leaders, "Johar! Namaskar!"
"I express my heartfelt gratitude to all Members of Parliament and Legislative Assemblies for electing me to the highest Constitutional post of India. Your vote for me is an expression of the faith of crores of citizens of the country," she said.
She also greeted all the fellow citizens from this sacred Parliament, a symbol of the hopes, aspirations and rights of all the citizens of India.
"Your affection, trust and support will be my greatest strength in discharging my functions and responsibilities. The country has elected me as the President at a crucial time when we are celebrating 'Azadi Ka Amrit Mahotsav'," Smt.Murmu said.
A few days from today, the country will complete 75 years of its independence. It is also a coincidence that her political career started when the country was celebrating its 50th year of independence. And today, in the 75th year of independence, I have been assigned this new responsibility, she said.
The President said she has started my journey of life from a small tribal village in Odisha in the eastern part of the country.
"From the background that I come from, it was like a dream for me to get elementary education. But, despite many obstacles, my determination remained strong and I became the first daughter of my village to go to college," said the President.
"I belong to tribal society. I have got the opportunity to rise from serving as a ward councillor to becoming the President of India. This is the greatness of India, the mother of democracy," she said.
It is a tribute to the power of our democracy that a daughter born in a poor house in a remote tribal area can reach the highest constitutional position in India. That I attained the post of President is not my personal achievement, it is the achievement of every poor person in India, she dedicated.
"My election is a proof of the fact that the poor in India can have dreams and fulfil them too. And it is a matter of great satisfaction for me that those who have been deprived for centuries and those who have been denied the benefits of development, those poor, downtrodden, backwards and tribals are seeing their reflection in me, "said Smt.Murmu.
This election of mine has blessings of the poor of the country, she said, adding it reflects the dreams and potential of crores of women and daughters of the country. Today I feel proud to lead such a progressive India.
In the light of the Constitution, I will discharge my duties with utmost sincerity. For me, the democratic-cultural ideals of India and all the citizens will always be my source of energy.
Pujya Bapu had resorted to Swaraj, Swadeshi, Swachhta and Satyagraha to show us the way for realising Indian cultural ideals, she said.
She names countless personalities like Netaji Subhash Chandra Bose, Nehru ji, Sardar Patel, Babasaheb Ambedkar, Bhagat Singh, Sukhdev, Rajguru and Chandrashekhar Azad, who had taught us to keep national pride as paramount.
Speaking about herself, the President said, decades ago, she had the opportunity to work as a teacher at Sri Aurobindo Integral School in Rairangpur. After a few days, the nation will observe the 150th birth anniversary of Sri Aurobindo. Sri Aurobindo's thoughts on education continue to inspire me.
"I have realized the importance of forests and water bodies in my life. In my life so far, I have realised the meaning of life only through public service," she said.
Pointing out a line from the poem of Bhim Bhoi Ji, a famous poet of Shri Jagannath Kshetra- Smt.Murmu said, "Mo Jeeban pachhe narke padi thau, jagato uddhar heu". That is, working for the welfare of the world is far greater than one's own interests, she said.
"With this spirit of welfare of the world, I will always be ready to work with full devotion and dedication to live up to the trust you all have reposed in me. Let us all unite and move forward on the path of duty with a dedicated spirit to build a glorious and self-reliant India, she concluded her first speech with these words.
Prime Minister has wished the President a fruitful Presidential tenure. He said that her assumption of office is a watershed moment for India especially for the poor, marginalised and downtrodden. He also said that in her assumption speech, the President emphasised on India's accomplishments and presented a futuristic vision of the path ahead at a time when India is marking Azadi Ka Amrit Mahotsav.