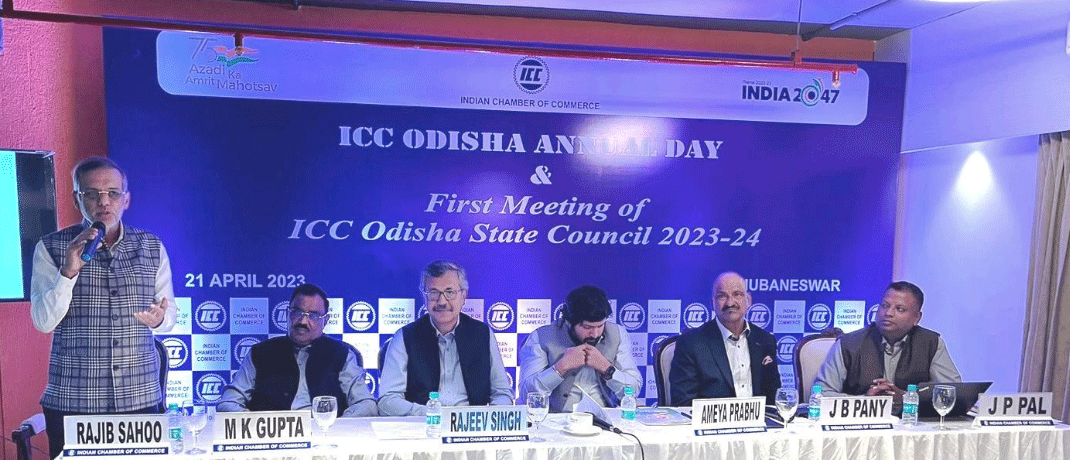 Bhubaneswar: Indian Chamber of Commerce (ICC) Odisha State Council organized its Annual General Meeting (AGM) on 21 April 2023 held here, where new Team has been inducted.
J B Pany, Director, Javastra Technology Pvt Ltd, Rajib Sekhar Sahoo, Chartered Accountant & Principal partner, SRB & Associates and M K Gupta, Managing Director, Gupta Power Infrastructure Ltd (GPIL) is appointed as new Chairman, Senior Vice-Chairman & Vice-Chairman of Odisha State Council for the year 2023-24.
New office-bearers of ICC Odisha vow to work closely with the Odisha Government to make the State a preferred destination for investors.
Odisha is the manufacturing hub of East India, with the state GSDP growth surpassing the national GDP growth rate of India. It is the heartland of India's mineral deposits and one of the most happening places for start-ups. Odisha is also recognized as a 'Leader' in the implementation of business reforms by DIPP and the World Bank.
Robust Industrial Infrastructure, easy availability of industry ready work force and close proximity to the ASEAN creates a harmonious synergy for growth and development for this coastal state.
The Indian Chamber of Commerce (ICC) living up to its new theme of "Governance for Growth" actively promotes sustainable growth initiatives throughout the country and abroad, connecting the hinterlands of India to the highways of global growth.
The Chamber actively engages with the government, academia and the public at large, to guide enterprises to do their businesses effectively, while becoming more conscious of their responsibilities.
ICC works across sectors like Agro and Food processing, Capacity Building Initiatives, Coal, Energy, Healthcare, IT& ITes, Minerals & Metals, Plantation, Safety & Security, Banking & Finance, Chemicals & Fertilizers, Construction & Real Estate, Environment, Infrastructure, Logistics, Oil and Gas, Retail and Tourism.
ICC initiatives in Odisha pan the cross section of business and economic activities in the state. The Chamber takes pride in its association with the state government and pledges to actively work in sync with the state policy objectives to co-create the emerging Odisha of tomorrow.