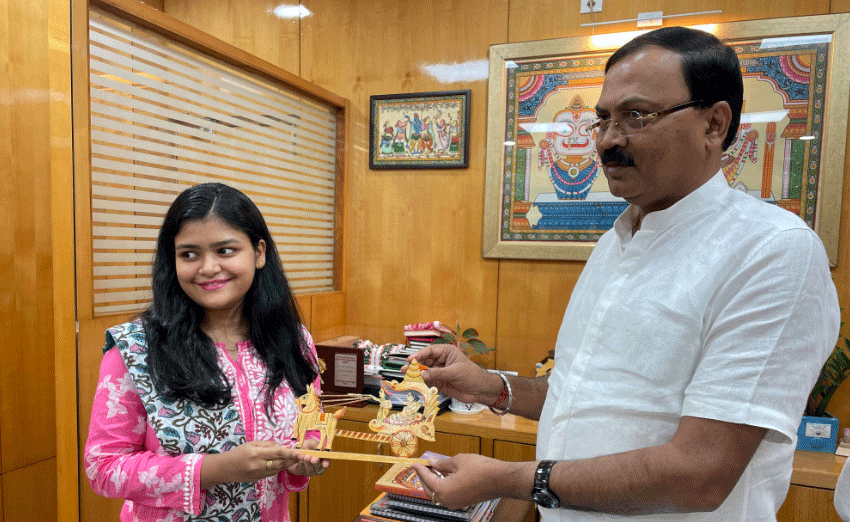 Bhubaneswar: Ace Mandarin, Satyabrata Sahu has appreciated efforts of Budding IAS Officer, Kasturi Panda for her success in UPSC 2022 Examination, in which she came out with flying colors.
Ms.Panda called on Satyabrata Sahu, ACS Revenue & Disaster Management, Odia Language, Literature and Culture, Forest Environment & Climate Change here on 1 June.
Shri Sahu congratulated her for the grand success in UPSC Exam and presented a handicraft piece depicting Odisha Culture.
Ms.Panda gave out details as to how she succeeded in the UPSC Examination with Sociology as subject.
ACS Shri Sahu said the Indian Civil Service presents lot of opportunities to serve people and society at large.
He said no post is unimportant or punishment, one has to apply innovative thinking and service minded approach towards the work.
ACS Shri Sahu said one has to work without any agenda but with an intention to serve the people, which will earn goodwill and happiness.
While Ms.Panda did brilliantly well in State Civil Service, she also proved her mettle in UPSC Exam to get into elite IAS.
All along a brilliant student and hardworking personality, Ms.Panda has her support and inspiration from her loving father, Sarada Prasad Panda, a Civil Servant serving in the Government of Odisha.
Shri Panda is the Joint Secretary in the Department of Housing & Urban Development is known for his efficiency and hardwork.
Shri Panda is also the Director of the State Urban Development Agency(SUDA), which is spearheading development process in the Urban Zones of the State.