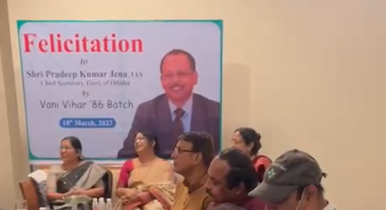 Bhubaneswar: High hopes are pinned on Ace Administrator Pradeep Kumar Jena, who has taken over the charge of Chief Secretary of Odisha recently.
This came to fore on 18 March, when Team Vani Vihar 86' met here to felicitate the Top Boss of the State Bureaucracy Shri Jena, who is known for his emotional and friendly approach.
All his Class Mates of Vani Vihar 86' were happy to meet their long standing friend Shri Jena, who has reached the pinnacle in his illustrious career as an Administrator.
Team Vani Vihar 86' lauded his straightforwardness and lively approach during his entire period in the State Administration.
Replying to the warm felicitation Shri Jena said "I will work hard to the satisfaction of the people of Odisha within the framework of the Government."
He also said that he is thankful to the State Government which has bestowed faith on him while elevating to the Chief Secretary Post.
Shri Jena, an ardent devotee of Lord Jagannatha said he is indebted to Lord of Universe, who has been kind to him all along and due to His Blessings and Grace; he has reached the Top Post of State Bureaucracy.
More than 100 Members of the Team Vani Vihar 86' joined the lively get together here, where they recalled their 'Golden Old Days' and were very happy to see their Class Mate has reached the 'Top' by dint of his hard work and honesty.
Known for his Pro-People approach, Shri Jena talked about his determination to come up to their expectation and hope.
He said that he is happy to see that his Class Mates have also reached the pinnacle of their respective career and have been successful in their lives.
Among others, Achyut Samanta, MP, Dhirendra Kumar Mishra, Principal Chief Commissioner Income Tax, Educationist, Subhendu Kumar Mohanty, Senior Administrators, Top IT Professionals and others successful personalities from various sectors joined the get together.