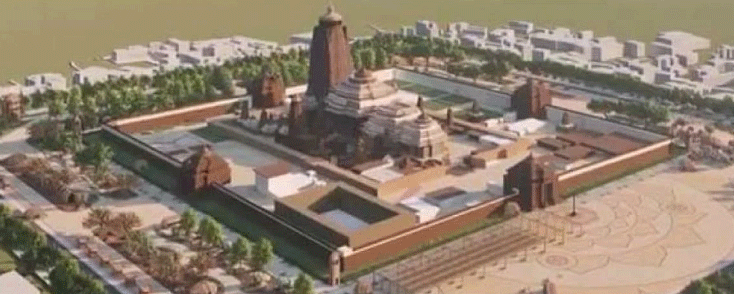 Puri: The ambitious Srimandir Parikrama Prakalpa or Shri Jagannath Temple Heritage Corridor project around the shrine will be completed within the next three months.   
Chief Secretary Suresh Chandra Mahapatra has informed this to the media after making a field visit and reviewing the mega project in Puri.
The Srimandir Parikrama project work is going on at full speed. Work on the outer parikrama, inner parikrama and the ring road is underway, he said.
The work at the project will be completed in the next 3 months and the devotees will be able to use it. A lot of services like toilets, washrooms and places for meditation are being created under this project, Shri Mahapatra said.
Devotees can go all around the temple and enjoy the magnificent view of the main temple from different parts of the project, he said.
Khondalite stone is being used for flooring and slabs. For the convenience of the devotees, battery-powered vehicles will operate from the multi-level car parking at Shree Setu project to the temple, the Chief Secretary informed.
Shri Mahapatra also said that went to the Swargadwara and reviewed the development and beautification of the area. He said 28 places have been created for cremation and about 70 to 80 bodies are cremated daily in the Swargadwara.
He informed the media representatives that services such as raising tokens, shraddha, supply of wood etc. are being provided through specific fees. He said that an auditorium, restaurant, drinking water and toilets facilities have been constructed there.
He expressed hope that the beauty of the temple will increase after the completion of the project and the devotees will spend a lot of time there.