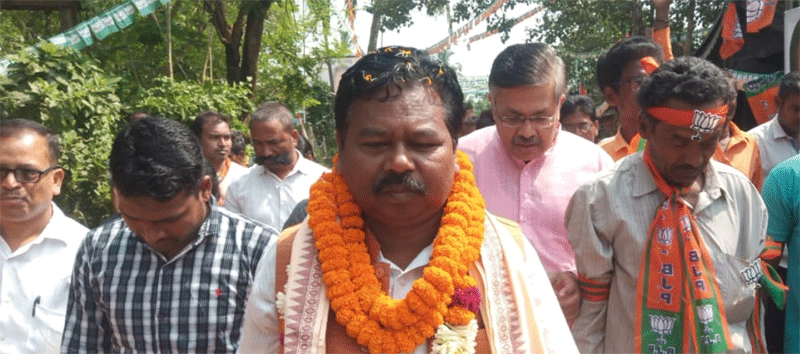 Bhadrak: With the nearing of poll day for Dhamnagar Assembly by-election, BJP heavyweights Union Ministers Dharmendra Pradhan and Bishweswar Tudu along with National Spokesperson Sambit Patra have joined the election campaigning for party candidate Suryabanshi Suraj.
Mr.Pradhan, Mr.Tudu and Mr.Patra extensively campaigned in the constituency seeking votes for the party candidate. The BJP leaders participated in both padayatra and road shows and expressed confidence that the people of Dhamnagar would certainly bless late MLA Bishnu Charan Sethi's son Suraj in this by-poll.
The by-election to the Dhamnagar seat will be held on November 3. It was necessitated due to the untimely death of Bishnu Charan Sethi on September 19.
Mr.Pradhan led road shows at Paliabindha, Guamal, Dolasahi, Bilana, Bodaka, Talapada and Barua.
"In Dhamnagar, the support for Prime Minister Narendra Modi is as wide as the Himalayas. The public faith in former Minister Manmohan Samal, late Bishnu Sethi and the BJP is the pillar of strength in the region. With this cooperation we will win the election," Mr.Pradhan said.
During the roadshows, Mr.Pradhan hit out at the ruling BJD saying, the BJD Government has made tall claims over women empowerment, however, they have been exploited during the last 22 years. Due to poor health infrastructure, pregnant women are forced to carry cots to hospitals."
He further said arrogance is not acceptable in a democracy. The brave fighters of Bhadrak have also broken the pride of the British, who wanted to keep India independent for a long time, he added.
"I have full faith that the people will break the arrogance of the ruling party and give a chance to a young leader like Suraj to serve the Dhamnagar," he said.
For BJD candidate Abanti Das, several ministers and MLAs from the Governing party campaigned while OPCC President Sarat Pattanayak is campaigning for Congress candidate Baba Harekrushna Sethi.