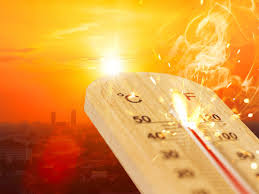 Bhubaneswar: Extreme heatwave conditions continued to grip across the state Wednesday with mercury breaching the 40 degrees Celsius mark at 30 places of Odisha.
According to India Meteorological Department (IMD), Baripada recorded a maximum temperature of 44.5 degrees Celsius and became the hottest of the state for the day.
As many as 11 places have registered a maximum temperature of 43 degrees Celsius or above. Nuapada registered a day temperature of 44.4 degrees Celsius, followed by Bolangir—44 degrees, Boudh—43.9 degrees, Talcher—43.8 degrees, Angul—43.7 degrees and Jharsuguda—43.6 degrees.
Similarly, the maximum temperature was 43.3 degrees Celsius at Rourkela, 43.2 degrees at Sambalpur, 43.1 degrees at Titlagarh and 43 degrees at Sundergarh.
Sonepur sizzled with a temperature of 42.5 degrees Celsius while capital city Bhubaneswar recorded a day temperature of 42.5 degrees Celsius and it was 42.2 degrees at Cuttack.
The other places those witnessed a temperature of 40 degrees Celsius or above are—Bhawanipatna (42.5), Hirakud (42.4), Dhenkanal (42), Nayagarh (42), Paralakhemundi (41.8), Kendrapara (41.8), Jagatsinghpur (41.5), Deogarh (41.4), Jajpur (41), Keonjhar (41), Bhadrak (41), Chandbali (40.9), Malkangiri (40.9), Bargarh (40.6), Khurda (40.5) and Rayagada (40.5).
The IMD said no large change in maximum temperature during the next two days. Maximum temperature is very likely to be 40 degrees Celsius and above normal by 2-3 degrees Celsius at many places over the districts of Odisha.
Hot and humid weather conditions are likely to prevail during the next one to two days at many places over the districts of Odisha, it added.
As per the Met Department forecast, light to moderate rain or thunderstorm likely to occur at one or two places over the districts of Malkangiri, Koraput, Rayagada, Nabarangpur, Kalahandi and dry weather is very likely to prevail over the rest districts of Odisha on Thursday.