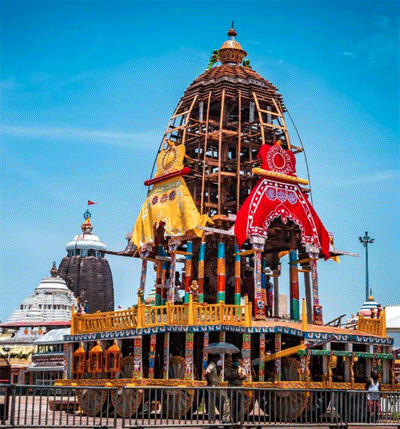 Bhubaneswar: State Health and Family Welfare Department has prepared detailed plan for the annual Rath Jatra of Lord Jagannath scheduled for July 1.
Recently, a meeting was held under the chairmanship of Additional Chief Secretary (ACS), Health & Family Welfare Department RK Sharma and discussed about various steps to be taken to provide uninterrupted health care services to pubic during the Rath Jatra-2022.
It was decided in the meeting that 30 First Aid Centre (FAC) will be set up at the strategic locations of Puri for providing better health services to the pilgrims and the devotees during Rath yatra.
Some identified CHCs of Puri district will organize separate FACs with their existing manpower in their areas at sites identified by CDM&PHO, Puri, the Health department officials said.
A good signage will be put up before the FACs for better visibility of public. The expenditure related to signage will be made from the head of account under IEC activity.
The Dean & Principal of Sri Jagannath Medical College & Hospital, Puri has been asked to issue necessary instruction to the faculties for their deployment in the hospital, FACs and other areas as required by the Puri Collector.
The Director, AYUSH has been asked to deploy 20 AYUSH doctors under the disposal of CDM&PHO, Puri by June 29, the officials said.
One Cardiologist each from Capital Hospital and SCB Medical College will be deployed to Puri on the day of Rath Jatra and Bahuda to meet the exigencies.
The ACS has asked to keep Puri Covid Hospital in readiness for operationalisation to meet the requirement regarding treatment of emergency cases if required.
Director, Nursing has been asked to plan for deployment of at least 25 staff nurses from FM MCH, Balasore and 25 from Baripada Medical College. Initially 15 from each site will be deployed with instruction to report in Puri on June 29 and rest 10 wilt be kept in readiness for deployment if required.
As many as 30 Pharmacists and 40 MPH (M) (preferably with pharmacy back ground) will be deployed at Puri by fore noon on June 29.
The Puri district public health wing will be responsible for testing of water samples while NHM will coordinate with Ziqitza for deployment of 10 108 Ambulances at Puri for attending patient and emergency calls during Car festival. The health officer post in Puri Municipality will be filled up immediately.
Director, Food Safety has been asked to ensure deployment of 5 Food Safety Officers at Puri. They will work under the supervision of DPHO, Puri and check the food samples for regulating the hygiene of the food as per protocol, the officials informed.
About 55 community health officers will be engaged for the Rath Jatra duty. Special Secretary (PH) has been appointed as nodal officer from the department to monitor the issues. Senior Officers from the department will visit Puri to supervise the overall arrangement, they said.