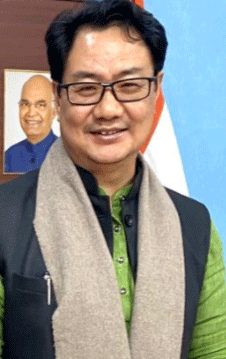 New Delhi: The State Government is yet to submit a complete proposal for setting up of division benches of the Orissa High Court in western and southern Odisha, Union Law and Justice Minister Kiren Rijiju told Parliament on Friday.
Replying to questions asked by BJP MP from Kalahandi, Basant Panda and Koraput MP Saptagiri Ulaka, Union Minister Mr.Rijiju said High Court benches, at a place other than its principal seat, are established in accordance with the recommendations made by the Jaswant Singh Commission and judgment pronounced by the Apex Court.
The Law Minister said the Centre will initiate the process after due consideration of a complete proposal from the State Government which has to provide necessary expenditure and infrastructural facilities and the Chief Justice of the concerned High Court who is required to look after the day today administration of the High Court.
"The proposal to be complete should also have the consent of the Governor of the concerned State," he said.
 "The State Government of Odisha has requested for the setting up of the Orissa High Court bench in western and southern region of Odisha. The Central Government has requested the Odisha Government to work out details of the proposed bench including its location in consultation with the High Court of Orissa," Minister Mr.Rijiju said. 
At present, no proposal regarding setting up of the bench (es) of Orissa High Court is pending with the government, he clarified.
In another reply, Mr.Rijiju said, as many as 1,91,581 cases are pending in the Orissa High Court as on 13 December, 2021. Of which, 1,39,829 are civil cases and 51,752 criminal cases.
Similarly, 15,15,734 cases are pending for disposal in various subordinate courts in the State till December 13. These cases include 3,03,368 civil cases and 12,12,366 criminal cases, he added.
Against the sanctioned strength of 27 Judges in Orissa High Court, 18 Judges are working leaving 9 vacancies, the Union Minister further informed.