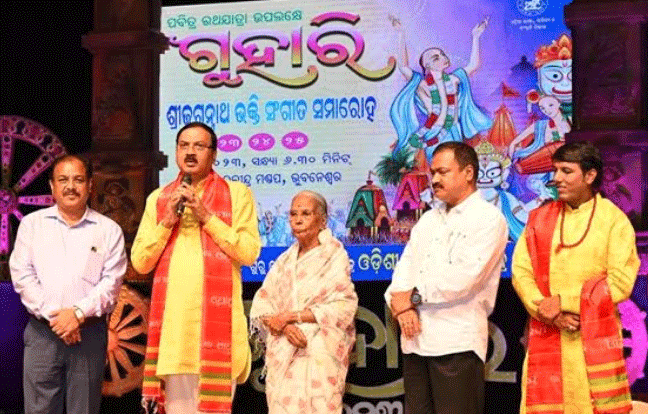 Bhubaneswar: Shree Jagannath Bhakti Sangeet Samaroh – Guhari, organized by Guru Kelucharan Mohapatra Odissi Research Center under the supports of the Department of Odia Language, Literature and Culture kick started today.
Shyamamani Devi, renowned Singer; Satyabrata Sahu, Additional Chief Secretary, Department of Odia Language, Literature and Culture and Ranjan Kumar Das, Chief Administrator, Shree Jagannath Temple Administration graced the occasion.
Prominent singers from across the state are participating in the three-day music festival.
The main purpose of organizing the festival during the world famous holy Ratha Jatra is to bring Shree Jagannath's devotional music to the attention of the people and spread it across the globe.
ACS Odia Language, Literature and Culture Shri Sahu, an acclaimed singer captivated the audience with new Shree Jagannath Bhajan.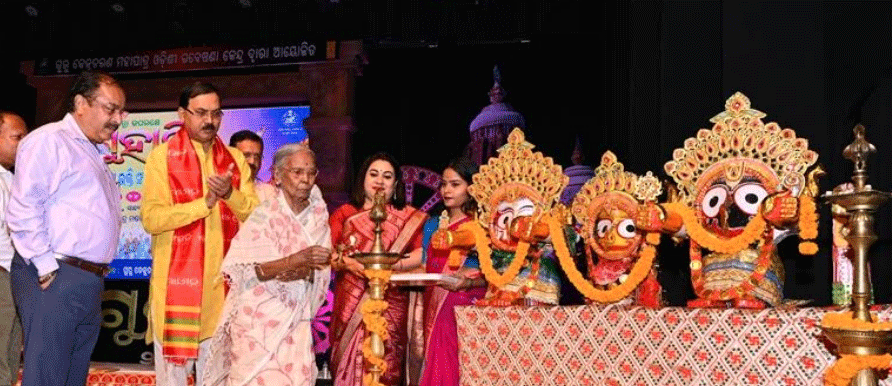 Among others Madhusudan Das, Additional Secretary, Department of Odia Language, Literature and Culture; Prabodh Kumar Rath, Secretary, Odisha Sangeeta Natak Akademi; Subodh Chandra Acharya, Chief Executive, GKCM Odissi Research Center and Anuja Tarini Mishra, Administrative Officer, GKCM Odissi Research Center.
Shri Jagannath is the progenitor of the world, the progenitor of the orthodox race. His majesty spread throughout universe, from the Vedas to the Puranas, innumerable miraculous accounts are observed in connection with Shri Jagannath.
The greatness of the journey of these universal deities, Darudevata, is spread all over the world. Jagannath, Balabhadra, Subhadra, the three chariots of Nandighosa, Taldhwaja and Darpadalana, from all the deities of creation, the best devotees like Graha, Nakshetra, Rusi, Gandharba, Yakshya, Hanuman and Arjuna, regardless of caste, creed, Haribol, Hula Huli, dance music, Devotees pull the chariot, which vibrates to the sound of Jai Jagannath.
On this auspicious occasion, organizing Shree Jagannath devotional music program 'Guhari' by the Department of Odia Language, Literature and Culture is a very aspiring initiative.
The renowned singers of the first evening were Subas Dash, Mohapatra Minati Bhanja, Bijay Jena, Subhadra Subhadarshini, Swadhin Kumar Pradhan, Priyadarshini Sahu, Pankaj Jal, Kshyanaprabha Besoi, Matruprasad Das and Lakshmi Priya Nayak.
The music performance of the artists based on Shree Jagannath was quite impressive and was well received by the audience. The program was anchored by Dr. Srinivas Ghatuari.