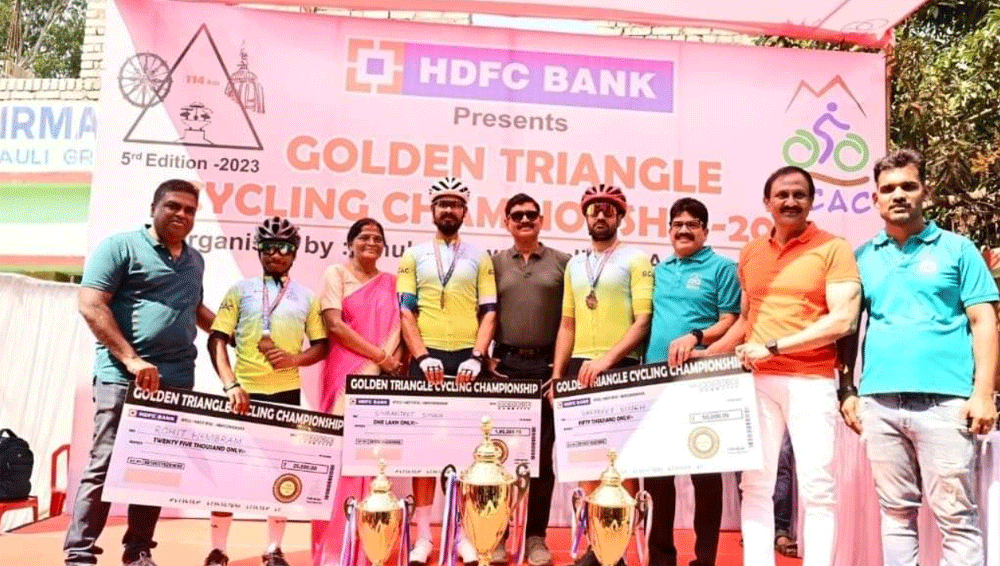 Bhubaneswar: The 5th Edition Of Golden Triangle Cycling Championship – Bhubaneswar Puri and back 114 kms. Bhubaneswar Cycling and Adventure Club has once again conducted its flagship Cycling event Golden Triangle Cycling Championship (GTCC) for the 5th consecutive year, the only competitive cycling in the State.
Aimed at improving competitive spirit among the budding cyclists of Odisha state, the 5th edition of GTCC witnessed one of the largest participations so far in terms of more than 100 pro-cyclists from nine states racing against their competitors.
Satyajit Mohanty, Chairperson, Odisha Public Services Commission graced the prize distribution ceremony as Chief Guest.
Sanjeeb Panda, Director Intelligence and President of BCAC, Anant Pattnaik, Circle head HDFC Bank, Minati Mohapatra, Arjun Awardee for Cycling graced the function.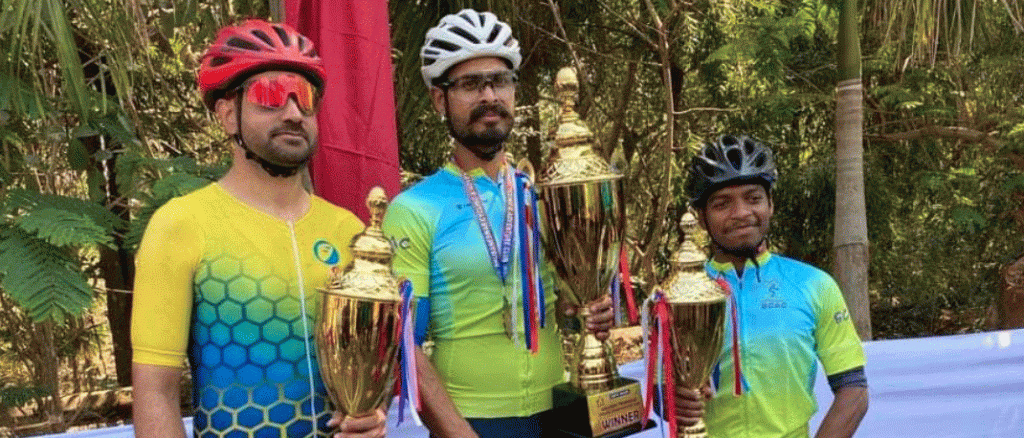 The Podium finishers are : 1st position : Simarjeet Singh of Punjab time taken 2:54:19 Rs1,000,000 cash award 2nd position: Sarpreet Singh of Punjab Time taken: 03:05:54 Rs 50,000 cash award 3rd position: Rohit Hembram of Rourkela Rs 25,000 cash award Time : 03:05:55.
Earlier in the morning, Shri Panda, Shri Pattnaik Circle head HDFC bank had flagged-off the race from the Ashoka Pillar on the foothills of Dhauli Peace Pagoda at 6.30AM.
More than 100 professional cyclists from nine states participated in this road cycling championship to test their endurance and mind over the muscles. Participants from West Bengal, Jharkhand, Haryana, Punjab, Chhattisgarh, Bihar, Maharashtra, Andhra Pradesh joined this cycling championship along with riders from Rourkela, Bhadrak, Jajpur, Jagatsinghpur, Malkangiri, Cuttack and Bhubaneswar.
HDFC Bank has been the lead sponsor of the event. The riders took the route via the National Highway (Puri) through Pipili Bypass Road, Malatipatpur to reach Puri new marine drive round about and the racers returned via the same route to the starting point at Dhauli covering a total of 114 kms. All the successful finishers were awarded medals and certificates.
Ajay Kumar Nanda and Santosh Rout and team volunteers from BCAC conducted the event to perfection. BCAC has earlier conducted mega cycling events like Vietnam to Cambodia, Bhubaneswar to Bhutan, Cuttack to Kathmandu, Manali to Khardung La in the Himalayas as well as expedition in Sri Lanka. BCAC is committed to promote both running and cycling culture in the State along with other adventure