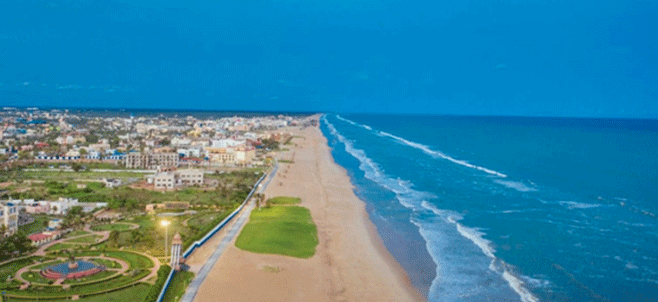 Puri: Beaches in urban India are widely recognized as popular tourist destinations all year round. The coastal areas of Odisha, Visakhapatnam, Mumbai, Chennai, Goa, Kerala have gained significant attention from tourists worldwide, leading to a substantial influx of visitors.
The presence of these pristine beaches of Puri, Gopalpur, Chandipur not only serves as a source of income for many coastal communities but also plays a crucial role in boosting the local economy. Golden Beach of Puri is attracting huge number of tourists, thanks to the efforts of Puri District Administration in keeping the beach clean and smart.
The beachline across different regions are encountering a range of issues such as pollution, overcrowding due to high tourist influx, and inadequate upkeep. The presence of marine litter posses a significant threat to the marine and coastal ecosystem thus hampering tourism. Citizens and Urban Local Bodies (ULBs) are growing increasingly conscious of this threat.
Joggers and runners across the country are embracing the practice of plogging on beaches, which entails picking up litter while jogging or running. This activity not only helps in keeping the beaches clean but also promotes a healthy lifestyle.
Efforts are being made by the local authorities and community groups to enhance waste management and sanitation on the beaches. Regular beach cleanup drives and restoration activities are being carried out to maintain the cleanliness of the beaches. Additionally, the ULBs are organizing various awareness programs to educate people about the significance of preserving natural resources and marine life. These initiatives are being undertaken as part of the Swachh Bharat Mission Urban, which aims to promote cleanliness and hygiene in urban areas.
Following the protocols for clean, safe and environment-friendly beaches, marinas and sustainable boating tourism operators, India has 12 Blue Flag Beaches namely, Odisha's Golden Beach, Gujarat's Shivrajpur Beach, Kappad Beach of Kerala, Diu's Ghoghla Beach, Radhanagar Beach in Andaman & Nicobar, Karnataka'a Kasadgod & Padubidri beaches, Rushikonda Beach of Andhra Pradesh, TN's Kovalam Beach, Eden Beach of Puducherry, Lakshwadeep's Minicoy Thundi & Kadmat beaches.  
From the sandy shores of Mumbai to the coastal regions of Vizag, Chennai, and Odisha, various efforts are underway not only to maintain the cleanliness of the beaches, but also engage corporate and community volunteers in supporting these endeavors. These initiatives aim to promote the sustainable upkeep of the beachfronts by implementing mechanized beach cleaning techniques or conducting night cleaning operations.
Yuva Tourism Club often conducts beach cleaning drives in Mumbai to free the beaches and ocean from plastic, Afroz Shah Foundation is also involved in many beach cleaning activities in various areas. Along with 900 swachh volunteers they recently joined the beach cleaning activity at Versova beach and removed 80,000 kgs of waste and over 7000 Ganesh idols. Bhumi a volunteer based non-profit organization in Chennai organizes beach cleanup drives, awareness programs on marine litter. They have conducted such drives in Vettuvankeni coastal stretch and Besant Nagar beach. 
Environmentalist Foundation of India conduct cleanliness drives on the coastlines of Chennai, Kochi, Mumbai, Bangalore, Delhi, Hyderabad, Kochi and Kolkata. Initiatives by the Mumbai based Project Mumbai include Jalllosh-Clean Coasts. During this initiative, they cleaned nine beach fronts, two rivers, and two mangrove forests. They collected over 16,000 Kgs of waste from these locations. They also conduct community-driven activities.