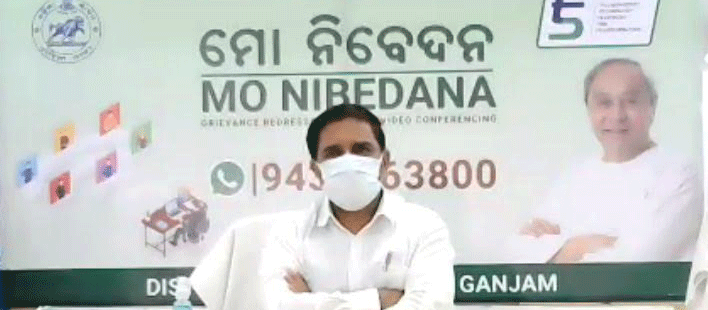 Chhatrapur: In adherence to the 5T Mantra of State Government, the Ganjam District Administration on Monday launched an innovative online grievance hearing and redressal  program—Mo Nibedan.
Ganjam Collector Vijay Amruta Kulange launched the program here at Sub-Collector's office and redressed grievances of people from four Gram Panchayats (GPs) of Rangeilunda Block.
"Due to Covid-19 situation and social distance norms, we cannot allow people to gather at one place to redress their grievances. Like official meetings that are being conducted on virtual mode, we have decided to redress grievances through virtual platforms," said Mr.Kulange.
On a trial basis, today grievances of people from Golanthara, Rangipur, Narayanpur and Keluapalli GPs have been heard, he said.
"Earlier, we were able to reach out to a limited number of people. Now, it will be enlarged due to this virtual grievance redressal programme. Moreover, the line department officials were unable to attend such physical meetings. But, now, they are attending the meeting through online mode," Mr.Kulange said.
The Collector further informed that the Mo Nibedan program will continue on all working Mondays. The District Administration will resolve the grievances within 10 days.
In view of the prevailing Covid-19 situation, the regular public grievance redressal mechanism has been stopped for over one year.
Now, the Mo Nibedan program will help the common man to lodge his grievances with the authorities without going to any office.
People can update the officials about their problems directly without any fear.