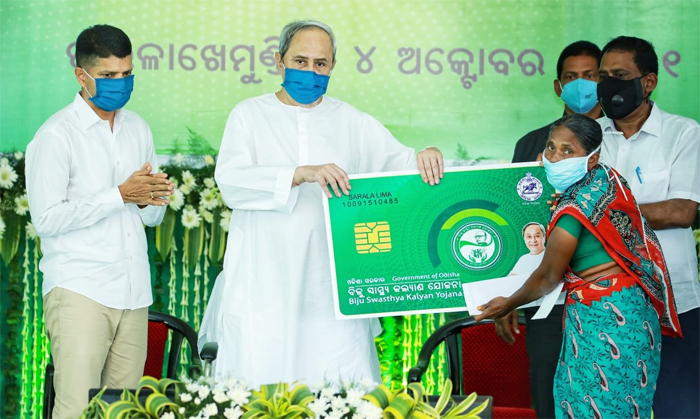 Paralakhemundi: Chief Minister Naveen Patnaik on Monday visited Gajapati district and launched distribution of smart health cards to the beneficiaries covered under the Biju Swasthya Kalyan Yojana (BSKY).
It is to be noted that the Chief Minister had announced the distribution of smart health cards to the BSKY beneficiaries on the occasion of Independence Day this year. He has already launched the distribution of smart health cards in Malkangiri, Sundergarh and Bolangir in three phases.
The smart health card will benefit about 1.35 lakh people in the Gajapati district and it will help to ease treatment related financial burden on people.
The Chief Minister said that everyone knows about Biju Babu's relationship with the Gajapati district, therefore the district has a special significance for him.
Although it is a small district, Gajapati's contribution to modern Odisha is significant, he said.
Stating Gajapati Maharaja Krushna Chandra Dev was a symbol of development and self-esteem, he said, the State would never forget his contribution for formation of a separate province of Odisha.
The Chief Minister also paid homage to poet Gopalakrusna Pattanayaka and eminent historian Dr. Satyanarayana Rajguru on this occasion.
The biggest concern is the money needed for treatment. For this, some sell land, some sell gold and some others borrow. Some even step in by sending their children to schools, he said.
"When I come across such news, it pains me. Now, the beneficiaries can avail health services by using this card in more than 200 hospital chains of the country including Odisha," the Chief Minister said.
"For me, every life is precious. Whether it's a farmer or a labourer, a small shopkeeper, or a rickshaw puller, everyone should leave in dignity. This is the main goal of all welfare schemes of the State," he pointed out.
In addition to distributing the smart health cards, the CM also inaugurated various projects such as mega piped water, roads, education, health infrastructure. The Chief Minister also said that steps were being taken to develop the Mahendragiri shrine.
The event was attended by Health and Family Welfare Minister Naba Das who highlighted the steps taken by the State Government for the development of the health sector. Several ministers, MLAs and 5T Secretary VK Panidan also attended the meeting.