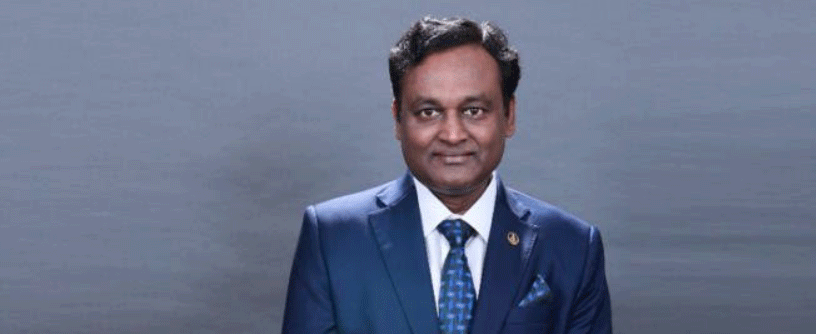 New Delhi: Ace Mandarin G Srinivas has been appointed as the Union Secretary Ministry of Parliamentary Affairs.
Mr.Srinivas, an IAS Officer of 1990 Batch of Odisha Cadre is serving as Additional Secretary & Financial Advisor of Ministry of Consumer Affairs, Food & Public Distribution and holding charge of Ministry of Petroleum & Natural Gas.
Mr.Srinivas, a B.Tech, ME and Management Program Holder in Public Policy from Indian School Of Business has rich experience in both Union Government and State Governments of Odisha and Andhra Pradesh during his long service of over 32 long years.
In the Central Government Mr.Srinivas served as Additional Secretary, Joint Secretary, Director in various Ministries and also served as Private Secretary to Union Minister.
During his tenure as Joint Secretary in Ministry of Mines, Mr.Srinivas has been instrumental in drafting the New Mines and Mineral (Development & Regulation) MMDR Act and helped in obtaining approvals of the Union Cabinet and Standing Committee for the proposed legislation, officials say.
In the Odisha Government he has served as Principal Secretary of Department of Steel & Mines, Labor, Employment & ESI and Commerce & Transport.
As Principal Secretary Commerce & Transport enabled expansion of the port expansion at Dhamra and Gopalpur, which were executed through PPP Mode by the State Government.
In Port Sector Mr.Srinivas contributed a lot as the case of Riverine Port on River Mahanadi and Subarnarekha Port in the activities like allotment of land and other regulatory issues.
In the Field Assignments like Revenue divisional Commissioner (RDC) , District Magistrate, Sub Divisional Magistrate, Mr.Srinivas was hyperactive in handling pro-people issues.
Mr.Srinivas served as Project Director in IFAD Supported Mega Project in Kashipur of Rayagada District and successfully negotiated several challenges and ensured successful implementation of the Project and thereby IFAD Mission extended the funding of the Project for two more years beyond initial period of closure, which helped the tribal people at large in the Tribal Zone, officials admit.
On an Inter Cadre Assignment, Mr.Srinivas has served as Managing Director MARKFED, Project Director ICDS in the Undivided Andhra Pradesh Government.
Mr.Srinivas has served on the Board of Hindustan Copper Limited (HCL), Hindustan Zinc Limited (HZL), Bharat Aluminium Company (BALCO) and odisha rail Infrastructure Development Limited (ORIDL).
Presently serving in the Board of Food Corporation of India(FCI), Bharat Petroleum Corporation Limited (BPCL) and Oil & Natural Gas Corporation (ONGC).
In the role of Financial Advisor, Mr.Srinivas, known for his pro-active approach has been instrumental in clearance of pending NSSF Loans of about Rs.3.39 Lakh Crore of FCI by the Government of India, said sources.
So PMGKAY is concerned out of the total financial outlay of Rs.3.49 Lakh Crore, an expenditure of Rs.2.64 Lakh Crore already has been incurred by Department of Food & Public Distribution, said sources adding this is due to Mr.Srinivas' positive approach.
During the COVID-19 Pandemic Period, from April, 2020 onwards DFPD has released Food Subsidy to FCI and DCP States, which was all time high.