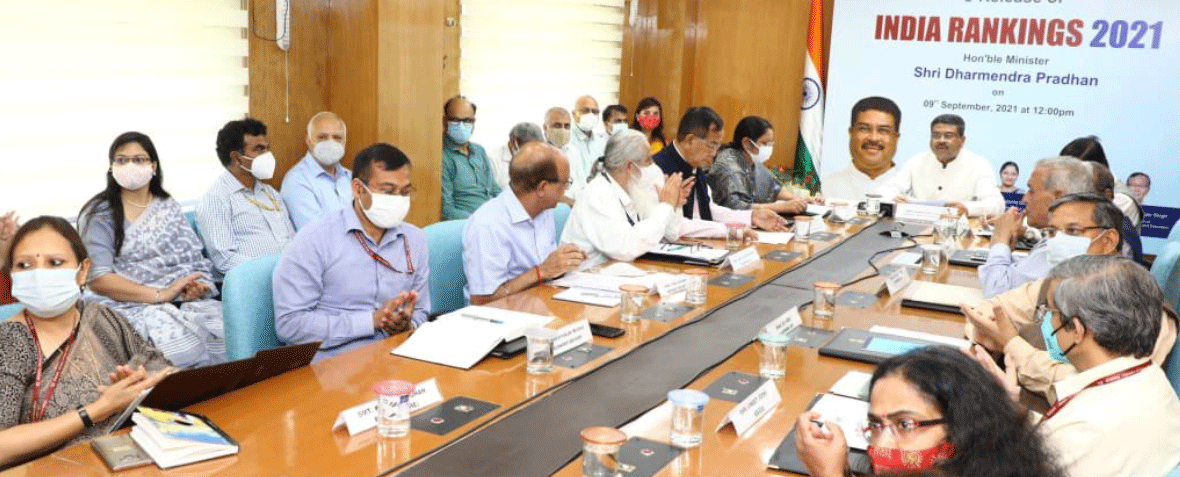 New Delhi: Four premier educational institutions from Odisha found place in Top 100 list of National Institutional Ranking Framework (NIRF) under overall category.
Union Education Minister Dharmendra Pradhan on Thursday released the India Rankings 2021 instituted by the National Institutional Ranking Framework here.
Bhubaneswar-based Siksha 'O' Anusandhan was ranked 37th in the list while the Kalinga Institute of Industrial Technology (KIIT) ranked 39. National Institute of Technology (NIT), Rourkela and Indian Institute of Technology IIT), Bhubaneswar placed in 41 and 58 in the top 100 NIRF ranking.
Similarly, in the rank among universities, three institutions from Odisha are there in top 100. The institutes are—Siksha 'O' Anusandhan (20th), KIIT (21st), Utkal University (87th).
Odisha five engineering institutes are there in top 100 engineering institutions in India. The engineering colleges are NIT (20), IIT (28), Siksha `O` Anusandhan (32), KIIT (39) and CV Raman Global University (100).
In Management four institutes from Odisha are there in the top 100 NIRF Ranking. The institutions are—KIIT (31), Xavier University (34), Indian Institute of Management (IIM) Sambalpur (61) and International Management Institute Bhubaneswar (62).
However, not a single degree college from Odisha has been able to score in the NIRF ranking.
In medical education, AIIMS Bhubaneswar, Kalinga Institute of Industrial Technology and SCB Medical College and Hospital secured 31, 36 and 39 positions at all India level, respectively.
Speaking on the occasion, Mr.Pradhan said that a robust & a role model ranking framework will serve as India's contribution to the global learning landscape, so, we must ensure that our ranking framework emerges as a benchmark not only in the country, but also globally, especially for the developing economies. He also urged to develop regional ranking frameworks.
The Minister stressed that the NEP also provides us with an opportunity to internationalize India's education system.
"We must work collectively to bring more and more institutions under our rankings framework and also establish India as a preferred global study destination," he said.
He congratulated all the premiere institutions from across India who topped the rankings in their respective categories— overall, universities, engineering, management, college, pharmacy, medical, architecture, law, dental and research institutions.
This is the sixth consecutive edition of India Rankings of HEIs in India. During its maiden year in 2016, rankings were announced for the University category as well as for three domain-specific rankings, namely Engineering, Management and Pharmacy institutions.
Over the period of six years, three new categories and five new subject domains were added to bring the total tally to 4 four categories, namely Overall, University, College and Research Institutions and 7 subjects, namely Engineering, Management, Pharmacy, Architecture, Medical, Law and Dental in 2021. Research institutions have been ranked for the first time in India Rankings 2021.
The National Institutional Ranking Framework (NIRF), launched in November 2015 by the Ministry of Education, was used for this edition as well as for the past five editions of India Rankings released for the years 2016 to 2021.