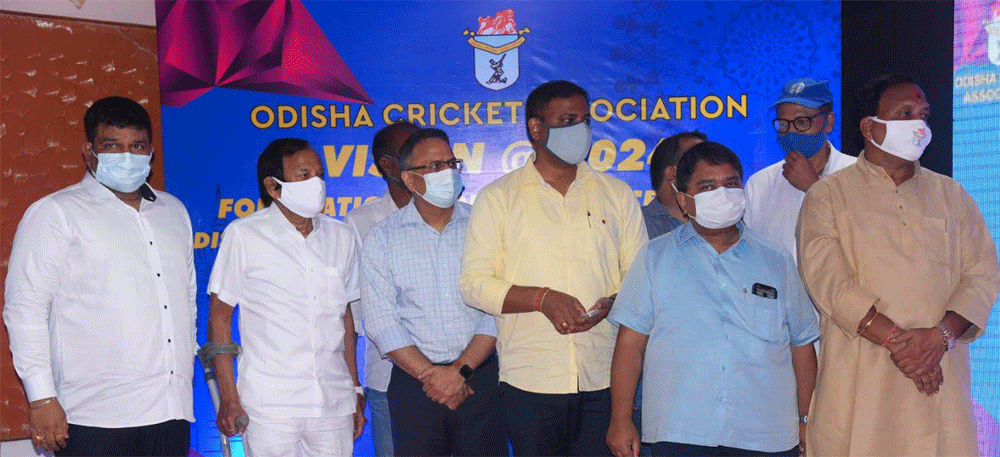 Cuttack: Odisha Cricket Association (OCA), which is planning to build a robust ecosystem of cricket in the State, has laid foundation stones for proposed Cricket Academies across the State.
Foundation stones of Cricket Academies in Bhubaneswar, Khorda, Cuttack, Jajpur, Angul, Dhenkanal, Jajpur, Balasore, Bhadrak, Mayurbhanj, Sambalpur, Bolangir, Sonepur, Sundergarh, and Nuapada were laid on virtual mode.
Sports and Youth Affairs Minister Tusharkanti Behera today laid the Corner Stones for proposed Cricket Academies of the OCA across Odisha. Vishal K Dev, Principal Secretary Sports and Youth Affairs graced the occasion.
OCA President Pankaj Lochan Mohanty, Secretary OCA, Sanjay Behera, Ashirbad Behera, Former Secretary OCA gracefully attended the ceremony.

Akshaya Kumar Samanta, Vice President OCA, Mehtab Khan, Joint Secretary OCA, Bikash Pradhan, Treasurer OCA and Suvashis Senapati Apex Council Member of OCA attended the ceremony.
The Vision @2024 is an ambitious project of the Odisha Cricket Association (OCA), said Pankaj Lochan Mohanty, President OCA, adding that it aims at providing turf wickets across the state which will provide equal and uniform opportunities and to enhance the performance of aspiring cricketers of the State.
President OCA, Mr.Mohanty said that the Organization is planning to develop the ground along with two Turf-wickets for practice as  turf wickets are a prerequisite in modern day cricket.
Sanjay Behera, Secretary OCA informed that very soon Odisha Cricket Association will be developing infrastructure across rest of the districts. He hoped that this will help cricketers in the grass root level get the top-notch facilities and advance coaching, which will be highly beneficial for the State.
Eminent Cricket Personalities, Debashis Mohanty, Sanjay Raul, Shiv Sundar Das, Pragyan Ojha and Wasim Jaffer shared their views and offered valuable suggestions on this auspicious occasion.