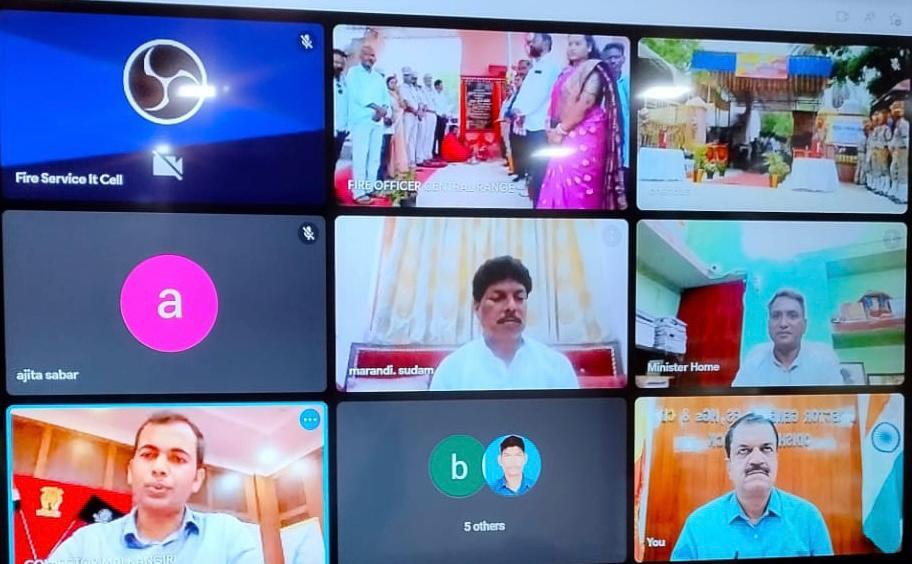 Cuttack: With the inauguration of two new fire stations at Chandua and Chitrakonda Blocks, the Odisha Fire Service has achieved a new milestone with opening at least one Fire Station in each 0f 314 Blocks of Odisha.
DG Fire Services Santosh Kumar Upadhyay is scaling up activities of Odisha Fire Service on 5T Mode of Mo Sarkar Charter.
Today, two pending blocks of the State Chandua under Kuliana block of Mayurbhanj district and Chitrakonda Swabhiman Anchal under Chitrakonda block of Malkangiri district joined the mainstream by having their own Fire Stations.
Revenue Minister Sudam Marandi and MoS Home Captain Dibya Shankar Mishra have jointly inaugurated the two Fire Stations on virtual platform in presence of Santosh Kumar Upadhyay, Director General, Fire Service, Chitrakonda MLA Purna Chandra Baka and Collectors of Malkangiri and Mayurbhanj.
With this inauguration, the Fire Service Directorate has fulfilled the State Government's target to have one Fire Station in each block.
With the operation of the above two new Fire Stations at Chitrakonda and Chandua the total number of Fire Stations operating in the State has gone up to 341.
Government have sanctioned 15 numbers of staff for Chandua Fire Station on February 15, 2014. Similarly, the State had sanctioned 15 numbers of staff for Chitrakonda Fire Station on November 29, 2021.
Newly operated Fire Station at Chitrakonda will cater to the needs of Swabhiman Anchal of Malkangiri District. Malkangiri has already allotted land at Chitrakonda for construction of its own Fire Station building with staff quarters. Similarly, the land selected for Chandua Fire Station is awaiting forest clearance from local DFO.
In November 2015, Chief Minister Naveen Patnaik had announced that his Government will set up 335 fire stations across the State in a phased manner with an objective to open at least one fire station in each block of the State. Accordingly, the Fire Service Directorate has worked hard and achieved the target set by the CM.
The Fire Service is not only providing services related to fire incidents, but also it has now emerged as a major disaster management wing of Odisha. Whenever there is a natural calamity like cyclone/floods or drowning incident, it is the Fire Service personnel, who stand tall with the people.
The Odisha Fire Service has also helped a lot of other States like West Bengal, Andhra Pradesh and Kerala, when these States were facing severe devastation due to cyclones and floods.