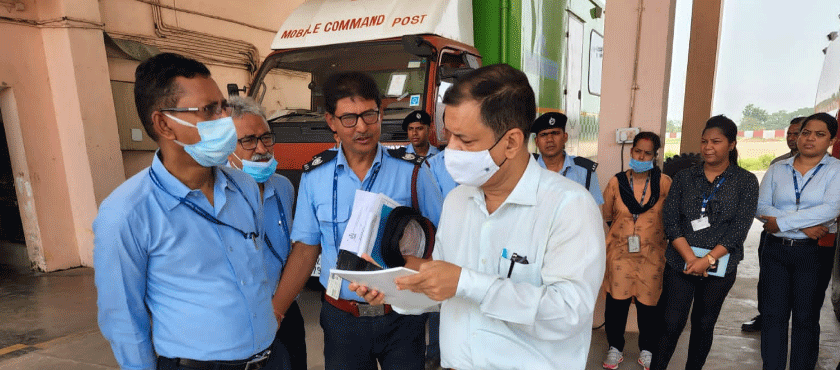 Bhubaneswar: DGP Fire Services S K Upadhyay reviewed fire safety and security relating to fire hazards for air passengers and related issues in the Biju Patnaik International Airport (BPIA).
Biju Patnaik International Airport Director Pravat Ranjan Beuria, CISF Deputy Commanding Officer and State Fire Officer Ramesh Chandra Majhi attended the Review Meeting.
Detailed review and physical verification was conducted on existing hydrants, sprinklers were tested to know actual efficiency.
Fire extinguishers were found to be refilled in 2021 and having validity till 2026.
The Airport Authority agreed to suggestions of DGP Fire Services on keeping adequate number of fire balls in closed rooms, lounges which act as First Responder automatically to extinguish fire in case of heat originated by fire .
During the day emergency exits and evacuation plan of airport was checked.
During landing and takeoff, strength of fire tenders ( mist, water, foam ) were tested at fire control room of airport .
Emergency treatment care unit and crisis mobile control were checked, said sources .
Airport fire officers were requested to dial 112 in case of reinforcements and other issues.
A senior official said that it was decided for joint mapping with local fire station staff on last Sunday's of every month beyond perimeters of airport.
BPIA authorities were impressed upon to obtain FSC along with Bhubaneswar Development authority (BDA) approvals for entire new airport, hangers etc, said sources.
While T1 is serving as domestic airport, T2 is for the International traffic and T3 is coming up in BPIA, which will cater to bigger traffic and BPIA is one of the busiest airports in India.
Dr.Beuria, Director BPIA presented the details to DGP Fire Services during the review meeting, said sources.