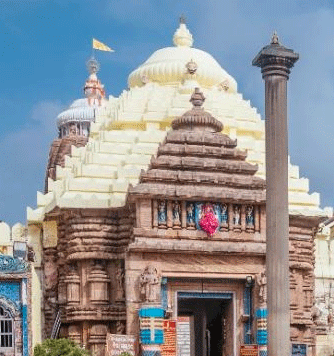 Puri: Just a day before the reopening of the Shree Mandir for devotees from all over the world, a special centre has been set up by police to take feedback from the devotees.
Devotees can submit their feedback on police service at the temple either through manual by submitting a form or through an online QR code scanning system. The police have set up QR code scanners at parking lots and some other important places where devotees can send their feedback online, police sources said.
The temple has been closed since April 24, 2021 for the entry of the general public, in view of threat of spread of Covid-19. After allowing Sevayat families and Puri citizens, the temple is all set to reopen for devotees from tomorrow under strict adherence to guidelines.
Chief Administrator of Shree Jagannatha Temple Administration (SJTA) Dr Krishan Kumar had already issued a detailed Standard Operating Procedure (SOP), which will be followed from tomorrow onwards.
As per the SOP, all devotees will be allowed entry for darshan from 7 AM to 7 PM on all days, when the temple is open for darshan of the Lords. The temple will remain closed for public darshan on all Saturdays & Sundays as a measure to contain the spread of Coronavirus disease and to sanitize the temple premises.
The Shrine will also remain closed on major festive occasions in order to avoid any spike in transmission of Covid-19 on account of huge gatherings that are expected on such festive occasions.
Queue system will open from 7 AM for the devotees, who will make entry through the barricades opposite to the Shoe stand, situated on the North-East side of the temple complex.
All devotees visiting the temple will have to produce the final certificate for Covid-19 vaccination (of having taken two Doses) or Covid-19 negative certificate (RTPCR) of testing done within 96 hours prior to their visit to the temple.
All devotees will be required to bring their photo ID card, namely, Aadhaar/Voter ID etc and enter through Singhadwar. After the darshan, the exit will be through Uttaradwar.
It is mandatory for all devotees to wear masks at all times, inside & outside the temple and they should sanitize their hands before entering into the temple.
All devotees will have to maintain physical distance at all times and follow Covid appropriate behavior. They have been requested not to touch statues or Idols inside the temple.
Similarly, there will be no partaking of Mahaprasad inside Ananda Bazar & temple premises. However, the devotees can carry Mahaprasad & partake it at their place of residence or any other convenient place.
There will be a separate queue for differently-abled devotees, for darshan of the Lords. Parking of the vehicles will be done only at Jagannatha Ballabha Math premise or any other designated place.
The SJTA advised senior citizens, children, persons having co-morbidities, pregnant women not to visit the temple in view of the prevailing Covid situation.
Meanwhile, the police have deployed 10 platoons of force, 1 additional SP and 20 officers to regulate the crowd in and around the temple