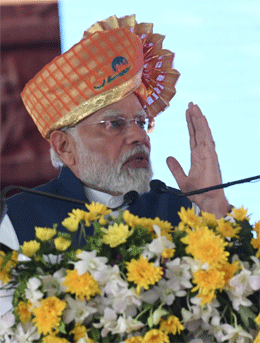 Bangaleru: Prime Minister Narendra Modi today transferred the 13th installment of about Rs 16,800 crore under the ambitious Pradhan Mantri Kisan Samman Nidhi (PM-KISAN) scheme of the Government of India.
Transfer was done, through Direct Benefit Transfer (DBT) to the bank accounts of more than 8 crore beneficiary farmers across the country.

Prime Minister Shri Modi said that today the whole of India has got a big gift from Belagavi. Today, another installment of PM-Kisan has been transferred to the farmers of the country. On just one click, more than Rs. 16,000 crores have reached the bank accounts of crores of farmers across the country.

Such a huge amount has been transferred in a moment, no middleman, no cut-commission, no corruption, this is Modi's Government, every bit is yours, it is for you. There are 80-85% of small farmers in India, now these Small Farmers are a priority of the government.

About Rs. 2.5 lakh crores so far has been deposited in the accounts of these small farmers. Of this, more than Rs. 50,000 crores has been deposited in the accounts of our sisters and mothers. The Prime Minister said that since 2014, the country has been continuously moving towards a transformational change in agriculture. We are associating agriculture with modernity. In 2014, the budget of Agriculture was Rs. 25,000 crores, whereas this time our Agricultural Budget is more than Rs 1.25 lakh crore. We are connecting more and more farmers with Kisan Credit Cards.
Union Government has always kept the interests of sugarcane farmers paramount. In this year's budget, an important decision has been taken related to sugarcane farmers. We have launched the PM Pranam Yojana for the farmers, through this, the States that reduce the use of chemical fertilizer will get additional help from the Center.
Thousands of farmers were present in this huge programme at Belagavi in Karnataka, while crores of farmers and others joined online.

Chief Minister of Karnataka, Basavraj Bommai, Union Minister of Agriculture and Farmers Welfare, Narendra Singh Tomar, Union Minister of State for Coal, Mines and Parliamentary Affairs, Pralhad Joshi and Union Minister of State for Agriculture, Shobha Karandlaje and other elected representatives were also present on the occasion.