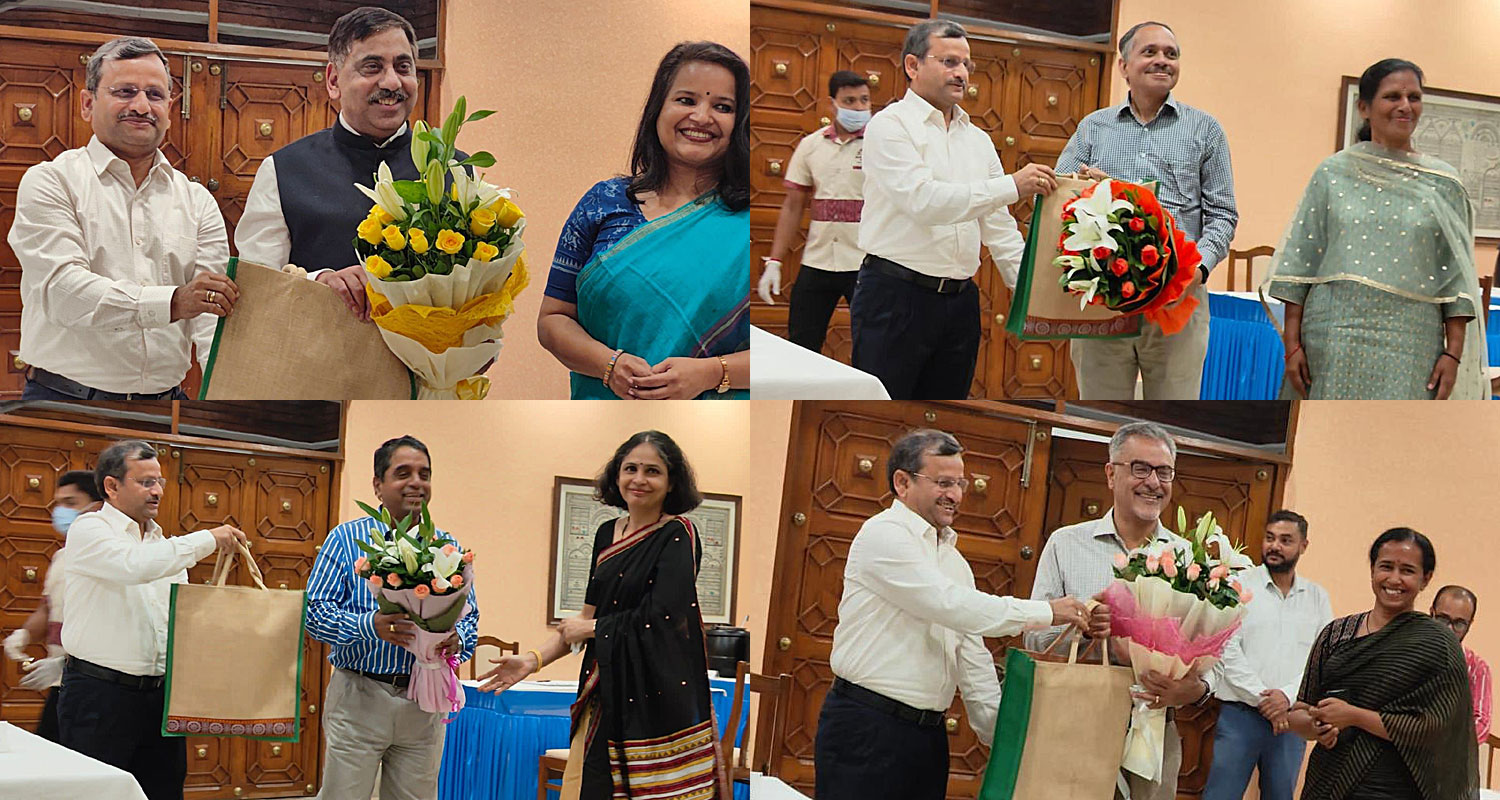 Bhubaneswar: The Odisha IAS Officers Association maintaining its long honored tradition presented heartfelt farewell to four Veteran IAS Officers here on 29 October in a simple largely attended ceremony.
Four IAS Officers were given farewell, while three are superannuating on 31 October and another leaving the state to join Government of India. All the four Veteran Members of IAS Association are admired and respected by the serving Mandarins.
While 1985 Batch IAS Upendra Prasad Singh, Union Secretary Ministry of Textiles, 1986 Batch IAS G Venugopala Sarma, Member Board of Revenue, Odisha and 1991 Batch IAS Madhu Sudan Padhi are superannuating on 31 October, 1990 Batch IAS Sanjeev Chopra is leaving for New Delhi on 1 November to join as Union Secretary Food & Public Distribution.
Chief Secretary Suresh Chandra Mahapatra chaired the meeting, while Principal Secretary Finance Vishal Dev, who is the Secretary of Odisha IAS Association, moderated the meeting.
Mr.Dev outlined the detailed about the four IAS Veterans, who has served the State with all sincerity and genuine approach.
Chief Secretary Mr.Mahapatra appreciated the efforts of these senior Mandarins and gave out personal experience with these serving Mandarins and congratulated them for a new innings in life and wished them a healthy life.
Satyabrata Sahu, ACS Revenue & Disaster Management spoke at length about his warm and vibrant association with these Mandarins.
Mr.Sahu fondly remembered his early days in service, while working with these Veteran IAS Officers.
He appreciated all these Four Veterans for their genuineness and work culture
Anu Garg, ACS, Water Resources also presented her heartfelt thanks for these Top Mandarins and wished them good luck.
Deo Ranjan Kumar Singh, Principal Secretary Steel & Mines charged the atmosphere with shayari and everyone enjoyed his approach to lead a happy life, while facing ups and downs during the service.
Mr.Singh was seen lauding the approach of these Top Bureaucrats, who are egoless and having caring approach for others.
The Meeting appreciated these Top Mandarins for their Team Spirit and love for the State, which Cadre they belong and served over three decades.
All the Foursome Mandarins shared their experiences of administration and advised young officers to function dedicatedly in carrying forward their responsibilities.
Director Agriculture & Food Production, Prem Chandra Chaudhury, who is the Joint Secretary of Odisha IAS Association coordinated the ceremony.