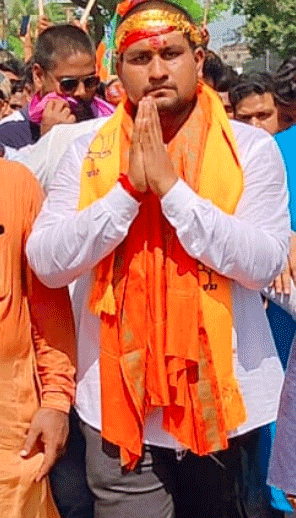 Bhubaneswar: Beating the well-planned strategy of Governing BJD, BJP was able to retain its Dhamnagar MLA seat. BJP candidate Suryabanshi Suraj won the by-poll to Dhamnagar Assembly segment with a huge margin of 9881 votes, defeating BJD's Abanti Das.
As per Election Commission of India (ECI) website data, Suryabanshi, son of Bishnu Charan Sethi whose demise necessitated the bypoll, has garnered 80,351 votes while Abanti has got 70,470 votes.
BJD rebel candidate Raju Das, who fought the by-poll independently, has got 8,153 votes.
The statistics says that former MLA Rajendra Das' entry into the fray has ensured defeat of the ruling party in the bypoll.
Congress candidate Baba Harekrushna Sethy was satisfied in fourth position with only 3561 votes.
The voting was conducted on November 3 at 252 polling booths and 68.98 per cent polling recorded in the by-poll.
Local political pundits feel that the BJP has been able to win the seat for several factors including sympathy votes, BJD's rebel candidate Raju Das, no show by Congress and its organisation. Besides issues like poor flood management by BJD government and non-set up of medical college have also defeated the BJD.
The BJP, which slipped to third position in the last by-poll for Brajarajnagar, has fought the by-poll unitedly under the leadership of Union Minister Dharmendra Pradhan. The organisation set up by Manmohal Samal and Bishnu Sethi has also helped the party to win the MLA seat.
Though more number of women voters turned into the booths, many of them have casted their votes to the BJP not the BJD, which had played women and SHG card in the by-poll to counter the sympathy wave for Suryabanshi. But, it failed.
Notably, the BJD had emerged victorious in all five bypolls in the state since 2019, wresting the Balasore Sadar seat from BJP despite the sympathy wave for the saffron party. It also won all six Zilla Parishad seats and 9 of 11 wards of Dhamnagar Notified Area Council (NAC) in the panchayat and civic polls held in February and April respectively this year.