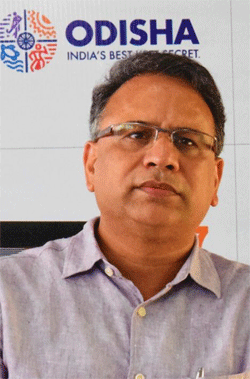 Bhubaneswar: With a full-fledged electronic receipt (e-Receipt) of the Integrated Financial Management System (IFMS) in operation, at least 95 percent of the State Government's receipt is made through this digital system is scripting success.
e-Receipt of IFMS provides a platform to the citizens and the taxpayers to deposit State Government dues and taxes online mode without physically visiting any Government offices or Banks. It is helping out the citizens during the pandemic period, officials say.
Principal Secretary Finance Vishal Dev recently took stock of the digital payment system of payment in receipts and payments in all the State Government Offices.
Senior officials attended the review in which it came to fore that Electronics Disbursement of IFMS manages 100 percent of State Government's payments.
Electronic disbursement facility enables transferring of amount directly to beneficiary's accounts using e-Kuber platform of Reserve Bank of India through National Electronic Fund Transfer (NEFT).
To enhance the service delivery a new facility –Bulk Disbursement–has been introduced and the facility is beneficial for those departments, where the numbers of beneficiaries are huge like scholarship, ex-gratia etc.
This is a complete automated system starting from preparation of sanction order, online bills, pay-order till advice generation and payment to beneficiary which helps in facilitating scheme-based direct benefit transfer (DBT).
State DBT Portal has been integrated with DBT Bharat Portal for month wise data sharing of 25 centrally sponsored schemes and State schemes, an official said.
In the meantime, standard operating procedure (SOP) for DBT implementation has been prepared and circulated to concerned scheme implementing Departments, the officials said.
Similarly for e-Receipts, the system has been integrated with various public and private sector banks and payment gateway to receive State Government dues.
More and more departments are using this facility and it is helping the citizens and taxpayers for payment of State Government dues and taxes online.
Different payment modes like Debit Card, Credit Card, Internet Banking and UPI are available for the purpose, the officials added.
As 99 percent (4.48 Crore) of Aadhaar Enrolment is completed in Odisha, more and more Schemes are needed to have cent percent Aadhaar seeding.
Similarly, Odisha Public Asset Monitoring System (OPAMS) is being set up on a priority mode.
It is a web portal, which can provide geospatial data service to the departments of the government and help in recording data on both legacy assets as well as current assets.
All the departments will appoint Nodal Officers who would act as a Super Administrator in the Asset Database for validating the asset data pertaining to establishments under their organization, the officials said.