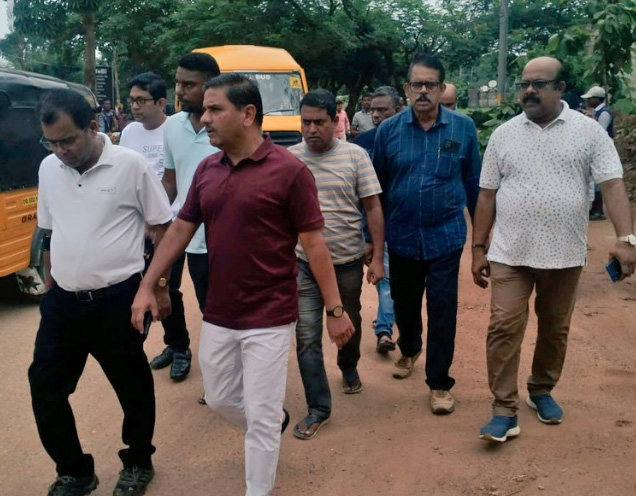 Bhubaneswar: With the rise of dengue cases in the capital city, the Bhubaneswar Municipal Corporation (BMC) has decided to deploy drones like the previous year for mosquito control in the city.
The drones will be used to spray chemicals at mosquito breeding sites. Mostly, the drones will be deployed in inaccessible locations like abandoned plots, narrow lanes, drains, slums and household surroundings.
BMC has deployed fogging vehicles and are doing chemical spraying in all parts of the city. However, drones will be deployed to spray the chemicals to kill the mosquitoes in the inaccessible areas and big drains.
The BMC has already followed a practice to reduce the source of mosquito breeding in the city. It is organising a Dry Day for this purpose.
BMC Commissioner Vijay Amruta Kulange said the Corporation is going to increase the number of vehicles engaged in fogging activity in Bhubaneswar. At the same time, additional teams will be pressed into service to cut bushes. A technical team will survey the areas troubled by an alarming rise in breeding of mosquitoes, he said.
Shri Kulange is always on move and visiting each Ward in Capital City in the morning and getting feedback from citizens and problems are being sorted out, officials say.
This is helping out citizens to speak out their grievances and BMC Commissioner is trying hard to solve the problem, said a senior citizen during the field visit.
The Commissioner has already issued an order to impose penalties on households, commercial establishments and institutions if potential sources of dengue mosquito breeding or larvae are found on their premises.
The BMC has decided to impose a penalty of Rs 1,000 on individual households if potential dengue mosquito breeding sources are found on their premises. Similarly, the penalty amount would be Rs 5,000 for commercial establishments and institutions, the order said.
The civic body has appealed to the citizens, commercial establishments and institutions to inspect their premises regularly and identify potential dengue mosquito breeding sources like flower pot, coconut shell, pet bowl, paper cup, unused tyres and utensils.
The aim is not to collect fines from the people but to appeal to them to take the necessary steps to check dengue mosquito breeding in the stagnant water, said Shri Kulange.
"As such there is no vaccine for dengue and hence prevention of mosquito breeding is most crucial to fight this menace. Therefore, I appeal to all the Citizens to inspect the indoor and outdoor surroundings of their houses, offices, institutions, business space/shops and nearby areas to identify possible breeding points/centers such as flower pot, coconut shell, plastic sheets, pet bowl, discarded electronic items, paper cups, unused tyres, unused utensils, cola canes etc. and empty those if found with stagnated water," the Commissioner said in his order.
Notably, at least two persons have succumbed to dengue in Bhubaneswar so far this year. Over 400 patients have been tested positive for dengue so far. At least 10 out of the infected persons are reportedly critical.