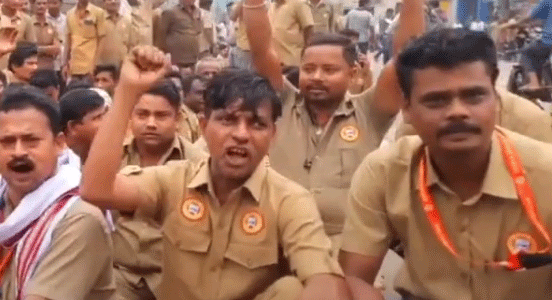 Bhubaneswar: After receiving assurance from Chief Secretary Pradeep Kumar Jena on their demands, the drivers have called off their ongoing indefinite 'quit steering' protest.
This was informed by Drivers Ekata Mahasangha President Prasant Menduli.
"Respecting State Government's written assurance on the fulfillment of our demands and in view of the problems faced by the public, we have decided to call off our agitation for 90 days," Shri Menduli said.
"If our issues are not resolved in three months, we will self-immolate in a mass before Naveen Niwas, the residence of the chief minister," he warned.
Chief Secretary Pradeep Kumar Jena held a meeting with the agitating drivers on Thursday evening and assured them that their demands will be resolved in three months.
Earlier in the day, Chief Secretary and DGP again appealed to the drivers to call off their strike in view of ongoing class-X board examination and problems faced by patients and public at large.
Notably, about 2 lakh drivers under the banner Drivers Ekata Mahasangha were an indefinite strike from March 15 to press for their demands including pension, death benefits, life insurance, social security, parking and toilet facility.