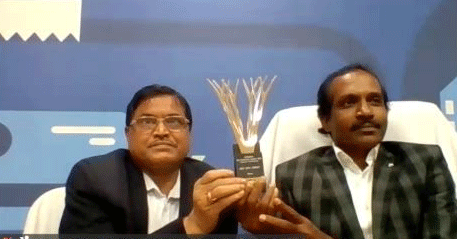 Bhubaneswar : Odisha bagged two National Awards at the Second Edition of the Janaagraha City Governance Awards announced on 12 January at a Virtual award ceremony.
Union Minister for Housing and Urban Affairs, Hardeep Singh Puri chaired the ceremony.
The State won in two of the five award categories competing with 54 applicants spanning across 17 States.
G MathiVathanan Principal Secretary Housing and urban Development has received the Awards.
Among others Director Municipal Administration (DMA) Sangramjit Naik, Deputy Secretary Sarada Panda and other departmental officers were present .
The Housing and Urban Development (H&UDD) won the Best State Award for JAGA Mission for enactment of laws, drafting of policies, setting up of institutional mechanisms, programs or schemes to successfully foster urban decentralisation in the cities and state.
The JAGA Mission was selected basis the historic Odisha Land Rights to Slum Dwellers Act, 2017 and for transforming urban slums into liveable habitats with intensive community mobilisation and empowering slum dwellers through Slum Development Associations (SDAs). The Mission provides slum dwellers with secure tenure and access to liveable habitat with infrastructure and services and covering 3,000 slums benefiting over 1.8 million population.
The Public Health Engineering Organization (PHEO), H&UDD won the Best Civic Agency Award for universal access to piped water supply through demonstrable inter-agency coordination and decentralization in practice.
The winners have been chosen by an eminent jury comprising Priyank Kharge and Arvind Bellad (Members of Legislative Assembly, Karnataka), Amitabh Kant (NITI Aayog), Ashutosh Varshney (Brown University), Niranjan Rajadhyaksha (columnist and economist, IDFC Institute),Sanjeev Chopra, IAS (Director, LBSNAA), Yamini Aiyar (Centre for Policy Research) and S. K. Das, IAS (Retd).
The Awards have been instituted in the memory of V Ramachandran, a doyen of decentralization, to recognize ground-breaking work in decentralization in urban context by institutions across government.
Formerly known as V Ramachandran Awards for Excellence in Urban Decentralization, the awards celebrate initiatives and efforts based on five broad categories- Best State, Best Municipality, Best Civic Agency, Best State Election Commission and Best State Financial Commission.