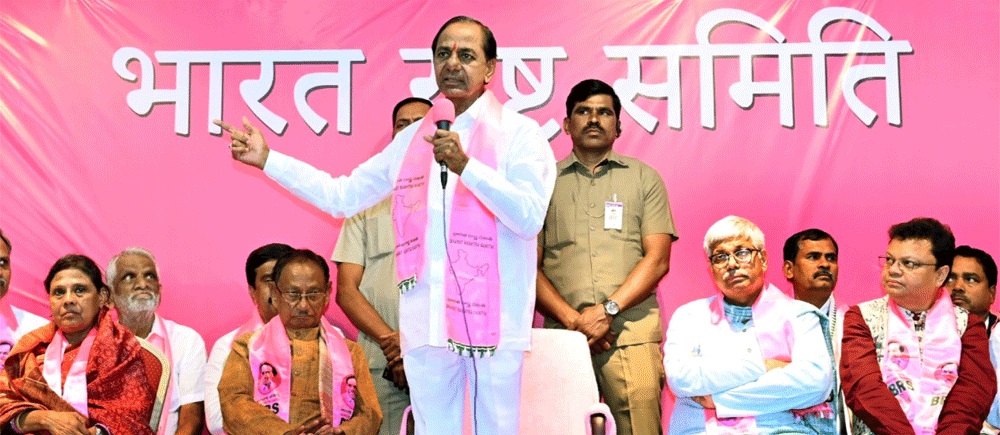 Bhubaneswar: Some may call them a "spent force" or leaders of yesteryears and impact-less, but in all likelihood Telangana Chief Minister K Chandrasekhar Rao's party, the Bharat Rastra Samithi (BRS), will certainly change the political discourse in Odisha. Naysayers say that the new party may not win a single seat, either in the Lok Sabha or the Assembly polls in 2024, but political pundits advise not to ignore the new political platform.
Former Chief Minister Giridhar Gamang, his ex-MP wife Hema, son Sishir, former MP Jayram Pangi and about half-a-dozen of ex-MLAs have on the very first day joined the BRS at a function held at Hyderabad. Nearly 300 people including farmers' leaders like Akshaya Kumar and Seshadev Nanda along with RTI activist Pradip Pradhan have joined the BRS and donned the pink scarf.
Though people across the state were aware that Gamang father and son duo, Jayram Pangi and Akshaya Kumar were the people who are set to join the KCR's BRS, none could imagine that a total of 300 leaders, many of them small time, would dashoff to Hyderabad in buses for the purpose.
People came to know about Gamangs' plans only a week before they joined the BRS. ButBRS was on the job in Odisha for some months and may be for some years. TheBRS planning and the clinical entry into Odisha politics is well calculated.
The Gamangs have to some extent lost their popularity among the tribal population of Koraput since Giridhar Gamang became Odisha Chief Minister in 1999. The dispute between the husband and wife also tainted the veteran Gamang's image in his community. But Gamang is a nine-time MP from Koraput besides being a Union Minister for several terms. Sishir Gamang who contested from Gunupur assembly segment in 2019 elections, finished fourth despite his father extensively campaigning for him as a BJP candidate. However, Sishir claimed that he lost the polls because of opposition of Jayram Pangi, who incidentally is now part of BRS along with Gamangs.
Of the seven assembly segments under Koraput Lok Sabha constituency, one seat each is held by Congress and Independent while remaining five seats are under BJD. The Koraput Lok Sabha seat was captured by Congress. This indicated that Congress has a sizable following in Koraput and BRS would like to eat out Congress space in Koraput thus affecting growth of BJP in the tribal hinterland. However, BRS may not affect the BJD's prosperity.
Similar is the situation in three other Lok Sabha seats in southern districts which have a sizable Telugu speaking population, the prime target to the BRS. In these districts, BRS will certainly target the tribal, women and Congress votes. As seen in Padampur where diversion of Congress votes helped BJD candidate Barsha Singh Bariha win the by-poll and defeat a strong BJP candidate, Pradip Purohit, similar situation may be repeated across the state when BRS fields 147 candidates in Assembly polls and 21 nominees in Lok Sabha polls.
The governing BJD and the opposition BJP and Congress have claimed that the BRS presence would have no impact in Odisha politics. It may not be totally true. The BRS candidates may not win polls, but they can be instrumental in the defeat of many candidates if they manage to retain Congress votes, feel senior politicians. While political analysts are divided on whether the BRS would impact Odisha politics, the KCR's party appears to be well-calculated and making its entry into Utkal with specific plans.
Besides targeting the Telugu speaking voters of Southern Odisha, BRS also has also set its eyes on the farmers of Coastal and Western Odisha, who constitute a major portion of electors.
On the very first day on January 27, KCR gave the call, "Aab Ki Bar, Kissan Sarkar". It shows that the BRS was giving adequate importance to the farming community with the 'Telangana model'. The farmers in the neighbouring state were being given free electricity, annual crop assistance and death benefits for farmers.
Navnirman Krushak Sangathan (NNKS) headed by Akshaya Kumar is very active in the coastal districts of Odisha and has held huge rallies with the demand for increase in minimum support price for farm produce and a fixed salary for the farmers. The outfit, active for several years, may have the backing and support of KCR. Akshaya Kumar's headquarters appears to be Hyderabad.
If BRS's manifesto and farmers' interests coincide, no one should be surprised if the new party captures most of the farmers' votes.
"If Telangana can make provision of free electricity, crop assistance of Rs 10,000 per acre and ex-gratia grant to a deceased farmer's family, why cannot Odisha do the same?" asked KCR in the first meeting with the leaders at Hyderabad.
Regional parties based in other states like Mamata Banerjee's All India Trinamool Congress, Aravind Kejriwal's Aam Aadmi Party, Samajwadi Party, Rashtirya Janata Dal and others have utterly failed in Odisha politics though they have fielded candidates in different elections. But, the case may not be the same as BRS entered into Odisha in a different situation when the BJD had completed over 23 years in office and BJP has been emerging while Congress has shrunk abysmally.
Though, BJP has emerged as the state's main opposition party, it lacked statewide network and has utterly failed to strengthen its booths. This was evident from last year's rural and urban polls when the BJP performed worse than the previous panchayat and urban polls. On the other hand, BJD had become stronger and Congress weaker.
Earlier, people opposed to both the BJD and the BJP went with Congress. But, given the present condition of the oldest party, people are left with no other choice than supporting the BJD. There are many voters who cannot vote for BJP for different reasons. However, BRS will certainly be an alternative for them, political analysts opine.
Now, a situation has been created when both the BJD and the BJP need to relook at their respective strategies and accordingly prepare to face the possible hurdles to be created by BRS, which also enjoys a resourceful political platform being a successful ruling party.