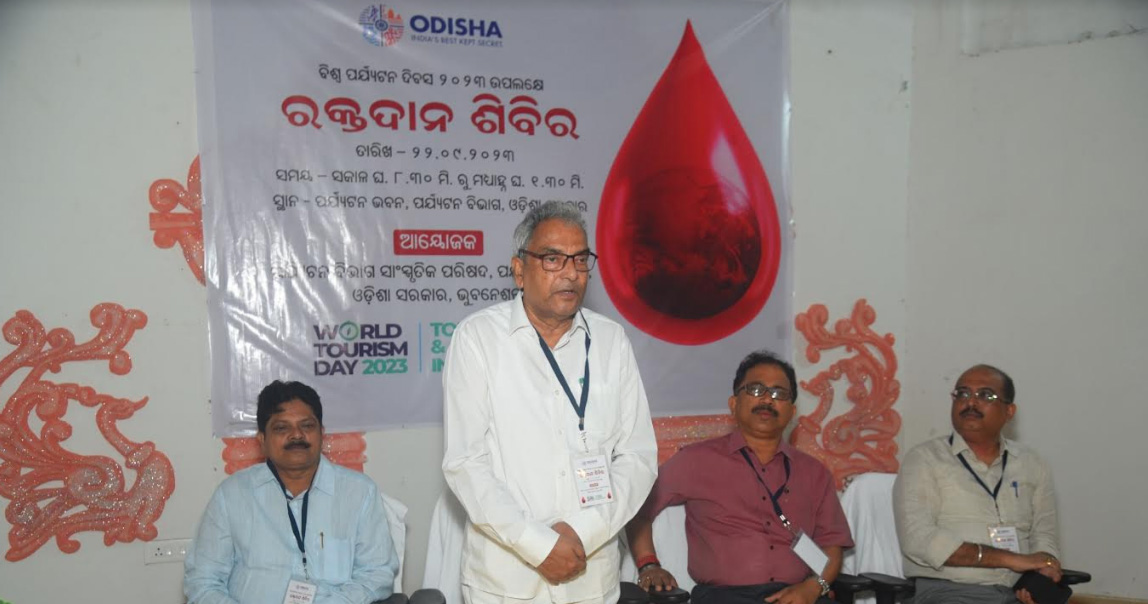 Bhubaneswar: In commemoration of World Tourism Day on 27 September, the Cultural Association of the Department of Tourism organized a Blood Donation Camp today at Paryatan Bhawan, Bhubaneswar. The event saw enthusiastic participation from the officials.
World Tourism Day is celebrated globally on 27 September each year, and this year's theme, "Tourism & Green Investments," encouraged organizations worldwide to recognize the social, economic, and cultural benefits of Tourism. In this spirit, the Department of Tourism's Cultural Association took the initiative to give back to the community by organizing a blood donation camp.
"It's heartening to see our department come together to celebrate World Tourism Day in a meaningful way by contributing to the well-being of our community," said Tourism Minister, Aswini Kumar Patra.
The camp was managed in collaboration with the Red Cross Society, known for its commitment to ensuring a stable and safe blood supply and excellent management of Blood Banks.
Director Tourism, Sachin R. Jadhav expressed his gratitude to the Officials who made the event possible. He stated, "Donating blood is a vital way to support the health and well-being of those in need, and it underscores the department's commitment to social responsibility".
Chairman OTDC Lenin Mohanty & Advisor BNTYY Durga Prasad Samantaray and other Senior Officials of Department of Tourism(DoT) and OTDC were present on the occasion. DoT initiative for organising this Blood Donation Camp aligns with the broader vision of responsible tourism and community engagement, emphasizing the positive impact that tourism can have on society beyond economic growth.
The blood donation camp saw an impressive number of participants, resulting in 45 plus units of blood collected. This contribution will undoubtedly make a significant difference in the lives of patients in need of blood.
The Cultural Association of the DoT is dedicated to promoting cultural awareness and social responsibility within the Department of Tourism. It organizes various events and initiatives to foster a sense of compassion and engage in meaningful social activities.